Robert Shellie
Distinguished Chair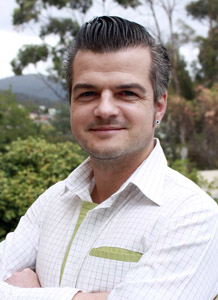 | | |
| --- | --- |
| Home Institution | University of Tasmania |
| Host Institution | Purdue University |
| Award Name | Tasmania State Senior Scholarship |
| Discipline | Chemistry – Analytical Chemistry |
| Award Year | 2013 |
"Chemical measurement usually involves taking samples to a laboratory where an analyst makes measurements using specialized scientific instrumentation. However, a preferred tactic in many circumstances may be to employ miniaturized instrumentation, permitting the analyst to 'bring the laboratory to the sample'."
Associate Professor Robert Shellie, ARC Australian Research Fellow, with the University of Tasmania (UTAS) is this year's winner of the Fulbright Tasmania Scholarship sponsored by the Tasmanian State Government and UTAS. Robert will go to Purdue University for three months to further his work in the development of an in-situ system for chemical measurement of environmental pollutants in remote locations. This could be used in locations such as Antarctica, the sub-Antarctic, and by extension industrial sites, and remote communities.
Robert has led research into developing instrumentation for environmental monitoring of fuel spills in Antarctica and the sub-Antarctic, and this is what sparked his interest in the development of this technology.
"Having performed work in the AAD laboratory at Macquarie Island as part of Australia's 2007-2008 Antarctic Program, I became acutely aware of the need to develop readily transportable instrumentation for performing chemical analysis in remote locations," Robert said.
"I have since developed a significant interest in miniaturized instrumentation and my research group is currently developing and testing field-transportable instrumentation. In the future I aim to intensify development of miniaturized instrumentation for chemical analysis of complex mixtures in my research group."
Robert has a BAppSc and a PhD in chemistry from RMIT University. He has won awards and prizes including a Australian Research Council Australian Research Fellowship; a Royal Australian Chemical Institute Robert Cattrall Medal;  Australian Institute of Policy and Science Tasmanian Young Tall Poppy of the Year; and a University of Tasmania Vice Chancellor's Award for Research Excellence. He has also published extensively. His interests include music, art, and renovating.
The prestigious Fulbright program is the largest educational scholarship of its kind, created by U.S. Senator J. William Fulbright and the U.S. Government in 1946. Aimed at promoting mutual understanding through educational exchange, it operates between the U.S. and 155 countries. In Australia, the scholarships are funded by the Australian and U.S. Governments and corporate partners and administered by the Australian-American Fulbright Commission in Canberra.