A Scientist's Creative Career Experiment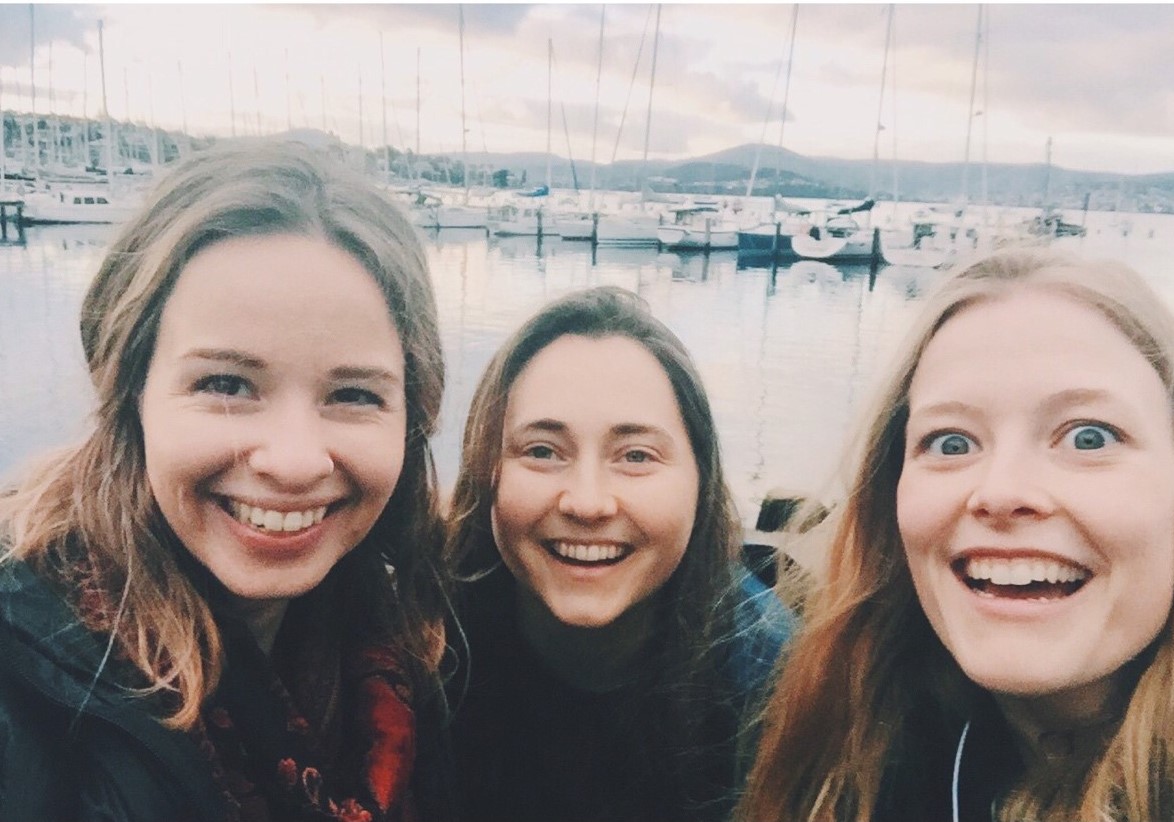 Ali, Ariel, and Kate at the 2015 Australian Mammal Society conference in Hobart, Tasmania
The three of us trekked, stretching our legs after a lengthy car ride from Brisbane to Lamington National Park. I liked that the Park shared its name with the dessert traditionally used to welcome people to Australia. This trek was my welcoming to Australia by labmates and soon-to-be-friends, Kate and Ali. They were the kind of Aussies who wore hiking boots as regular shoes on an oppressive 35 degree (95 F) day.
This was one of the first things I noticed about them when I joined Dr Vera Weisbecker's lab as a Fulbright Scholar. They were Honours students and together we were studying Australia's bizarre mammals. Ali was asking, can a new lab technique improve brain evolution research? Kate was asking, why are there no flying kangaroos? I was asking, can Fulbright help me balance science and educational game design?
A Journey to Oz*
During my Fulbright I was a Visiting Professor at Macquarie University in Sydney and worked in the Australian Institute of Health Innovation. My Fulbright experiences have forever re-shaped my perspectives of environments, international issues, and cultures within Australia and beyond.
There are many benefits of being a United States Fulbright Ambassador to a far-away country. For example, before I lived in Australia I did not know the answer to the following question: What do the Grey Headed Flying Fox Bat, Wombat, Koala, and Dingo have in common? During my Australian visit, I learned many things about these species. I'll share a couple of things. First, they are all unique animal species of Australia. Second, the Grey Headed Flying Fox Bat is a nocturnal 'megabat' averaging 3 three feet in width from wing tip to wing tip and has a diet of mainly pollen, nectar and fruit. This species is unique in that it has the head and body of a fox, but the wings of a bat. My first encounter with this species occurred during a nighttime stroll along a street in Sydney when one of the bats flew just above my head. At that first encounter, I did not know these megabats ate mostly pollen, nectar and fruit. You can imagine the rest.
Fulbright Friendships
The power of the Fulbright Scholarship to further the careers of individual recipients is recognizable in every Scholar's personal story. Our separate journeys are easy to trace. The professional connections we made during our placements are extremely valuable and the counterfactuals about how our careers might have turned out without the Fulbright Scholarship are individually comprehensible.
What is harder to comprehend is how every Fulbright Scholar's intercontinental friendships contribute to an unquantifiable but genuine public good. Every single relationship forged by a Fulbright Scholar during their placement adds yet another node to a robust global network of people with diverse ideas and values, from different countries and cultures. These relationships add up to more than the sum of their parts and they contribute to meeting Senator Fulbright's vision for the Scholarship:
Protecting Indigenous Children: A Tale of Two Legal Systems
As a child I was captivated by stories of life on the American frontier. Through these stories I imagined taking a covered wagon across the Oregon Trail, living in a little house on the prairie or striking gold in a California boom town. What I didn't spend much time thinking about were the millions of Native Americans affected by this westward expansion. As I grew up, I learned this history, but I still understood it as something that happened in the past and had little relevance to modern day people or politics. It was only upon reaching university that I finally began to understand that many of the Federal Indian policies I had come to associate with an unenlightened past, were still occurring in the present. This realization had a profound effect on me. My desire to help address these injustices is what led me to my current position as a law professor at the University of South Carolina where I write on federal Indian policy with a particular focus on laws protecting Indian families and tribal sovereignty.
Ripples in Spacetime
At this moment, the space you occupy is shaking from a background of gravitational radiation. You are being stretched and squeezed in all directions by gravitational waves from the most distant reaches of our universe. Gravitational waves are ripples in the fabric of spacetime caused by the violent acceleration of extremely massive astrophysical objects, but you don't have to worry about getting ripped apart by gravitational radiation anytime soon; by the time these waves reach Earth, the spacetime distortion they cause is less than the diameter of a proton.
Because these signals are so weak, it takes an extremely sensitive instrument to detect them. The Laser Interferometer Gravitational Wave Observatory (LIGO) consists of a pair of 4-kilometer-long, L-shaped lasers that use the characteristic interference pattern of the laser light to detect when a passing gravitational wave has squeezed one arm and stretched the other. The LIGO Scientific Collaboration announced the first direct detection of gravitational waves from a merging pair of black holes two years ago, exactly one hundred years after they were first predicted by Albert Einstein's Theory of General Relativity. This was such a monumental discovery that the scientists who first designed the experiment were awarded the Nobel Prize in Physics in 2017, while I was serving as a Fulbright Postgraduate Scholar at Monash University in Melbourne, using LIGO data to study the gravitational wave background.
Making Memories in Australia

Our memories, and the memories we share with others are a critical aspect of daily life. My research focuses on understanding how memory works and what factors influence what we remember. More specifically, I'm interested in understanding how our individual memories are influenced when we remember with other people. We frequently collaborate with others on memory tasks: friends and families reminisce together about past past events, students work together in the classroom, and older adults rely on each other to remember critical details. Of course, not all groups are equally successful when they collaborate. My research examines why collaboration disrupts individual memory in some settings and enhances individual memory in other settings (i.e. when individuals remember a greater amount of accurate information when working with a partner than when working alone).
Finding the Balance

Nearly one in three adults over 65 will experience a fall in the next year. Falls often result in long-lasting health effects that significantly reduce an individual's quality of life. Fall-related injury is not only devastating on a personal level, it has widespread financial effects in both the U.S. and Australia. Fall-related injuries are estimated to cost the U.S. healthcare system over $30 billion (USD) annually. As our global population continues to age, reducing the frequency and severity of fall-related injuries is essential to enabling older individuals to live fulfilling lives while minimizing the cost to healthcare systems.
During my U.S. Fulbright Postgraduate Scholarship, I spent nearly one year at the University of New South Wales (UNSW), in Sydney, Australia. My work at UNSW focused on developing technology to prevent fall-related injuries in the elderly. I was fortunate enough to work with a team of researchers with a broad set of academic and professional backgrounds. The principle investigator of my research project, Professor Nigel Lovell, is a leader in the fields of neuroprosthetics, telemedicine, and fall detection. Professor Lovell's previous work made large contributions to increasing the duration and quality of life for elderly people by enabling them to "age in place" in their communities rather than needing to move to a nursing home so they could be monitored for falls. Detection of a fall after it has occurred is incredibly important to ensure the user receives the medical attention they need as soon as possible. Accurate and fast fall detection is important, but is ultimately limited in its effectiveness because the user still falls and is potentially injured before the system is activated. That is where my Fulbright project comes in.
From Music Tutor to University Leader
Becoming a Tutor in music at the University of Melbourne in 1974, when I had just graduated with my bachelor's degree, soon filled me with more questions than I had answers for. In those days, music training in Australian conservatories mostly followed dated British models, and opportunities to do specialist postgraduate study were limited. I soon hungered for advanced study abroad. Exploring the course options in Europe and the USA, I noticed that many of the texts I had used in my undergraduate course were written by musicologists teaching in New York; so having successfully obtained a Fulbright award, and with a travelling scholarship from Australia, I set out for "The Big Apple," where I enrolled for a PhD in Musicology.
Next Door to Sputnik; Alongside Armstrong in Spirit!
Sputnik was launched in the early sixties. I went to Cornell University in 1965, under the banner of Fulbright, to do research into spacecraft re-entry problems. Part of our context was the moon race. For instance, I came from home to my lab to watch Armstrong's moon landing.
Mine was just one of the contributions of many to the grand space efforts.
I was a Fulbright Scholar from 1965 until 1970. A long time ago!
It is true that the money from the scholarship, along with teaching and research assistantships from Cornell University, made it possible for me to complete my doctorate at Cornell, and be a post-doctoral fellow for a year. I value that.
At the same time I value the principles that William Fulbright espoused in establishing the scholarships. In particular, I value the notion that the scholarships foster learning  and educational experiences that lead on to pursuits in the broader career of the Fulbright Scholar. There was no restriction on the Scholar's journey. There was simply encouragement that the Scholar contribute to his or her community, and perhaps that could be in the Scholar's homeland.
A professional, personal, and family experience like no other

Being awarded a Fulbright Senior Scholarship enabled me to spend four months at the Center for Behavioral Health Innovation (BHI), Department of Clinical Psychology, Antioch University New England. The University is a very small postgraduate university of approximately 1000 students. The Department of Clinical Psychology is one of five departments at the University and offers a Doctorate of Clinical Psychology. The University has a very strong and explicit social justice focus with many messages on noticeboards about the importance of equality, acceptance, and understanding.
It was a privilege to spend time at BHI learning about the work that they do. They are a small center led by two of the faculty members of the Department of Clinical Psychology and six other staff. They partner with organisations in rural and underserved communities helping these organisations to establish systems of ongoing monitoring and feedback in order to promote the effectiveness of the services they deliver. During my time there BHI staff were working with schools, health centres, and philanthropic organisations on various projects. The evaluation context in the US is quite different from Australia with the Federal Government in the US mandating that a proportion of funding (commonly 20%) for services and programs be allocated to the evaluation of those interventions. Funding for BHI largely comes from this requirement.
Teaching machines to play fair
I had the good fortune to visit the Machine Learning Department at Carnegie Mellon University in Pittsburgh as a Fulbright Postgraduate Scholar in 2016-17. During my eight months there I had the opportunity to learn from a technically brilliant group of academics and students who are designing algorithms that will shape the future.
As part of my Fulbright program, I participated in an Enrichment Seminar on Civil Rights in the United States. The seminar was held in Atlanta – birthplace of the Civil Rights movement and to this day an important centre of African-American political activity. More than 100 Fulbrighters from around the world heard from African-American leaders and activists, visited the Civil Rights Museum and Martin Luther King's tomb, and ran a story-telling workshop at a local school.
Algorithmic decision-making and fairness
Joining the dots between seemingly disparate subjects – the latest technical developments in machine learning and the political struggle for racial equality in the US – I became interested in the challenge of ensuring that decisions made by machines are fair. This has become an important and rapidly emerging field of research which is attracting attention from scholars in machine learning, law, philosophy and other disciplines. And everyone else – whose lives are increasingly influenced by decisions made by algorithms – are keenly awaiting solutions.
From Upwey to the USA: A wonderful professional and personal journey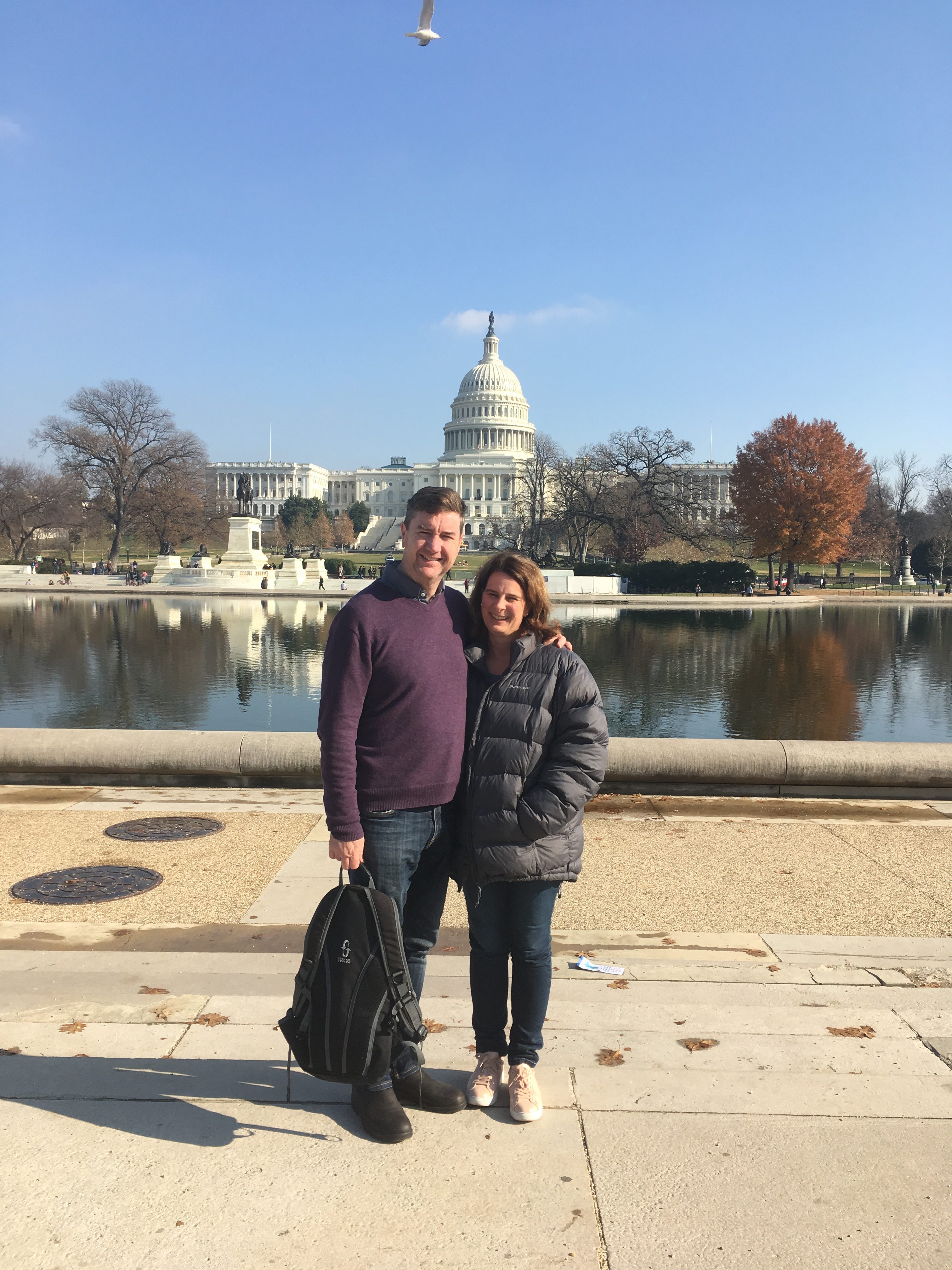 Over the last decade, 400 natural disasters have killed more than 100,000 people and affected a further 120 million annually. The international community provides tens of billions of dollars to assist local communities impacted by these humanitarian emergencies. Increasing the professionalization of leaders and managers of humanitarian disasters is critical to ensure the most effective recovery of communities and countries as well as the most efficient use of resources.
I was extremely fortunate to be awarded the 2017/8 Fulbright Professional Scholarship in Non-Profit Leadership in order to better understand how the humanitarian sector works in the US and share the work occurring in Australia at the Centre for Humanitarian Leadership (CHL) – a joint initiative of Deakin university and Save the Children Australia.
My Fulbright program was split over two sites. The first location was Boston, whilst the second location was in Washington DC. Both these locations allowed me the opportunity to work alongside an array of institutions and individuals that have expertise that directly touches upon the work being undertaken at Deakin's CHL.