Tiago Tomaz
Postdoctoral Scholars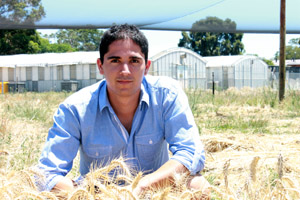 | | |
| --- | --- |
| Home Institution | University of Western Australia |
| Host Institution | University of Illinois |
| Award Name | Western Australia State Postdoctoral Scholarship |
| Discipline | Biological Sciences – Plant Biology |
| Award Year | 2013 |
"The development of crops that are able to grow under changing climactic conditions is essential to guarantee a food supply for humans in the future."
Dr Tiago Tomaz, a recent graduate from the University of Western Australia (UWA) has won one of two Fulbright Western Australia Scholarships, sponsored by the WA Government and WA universities. Through his Fulbright, Tiago will go to the University of Illinois at Urbana-Champaign (UIUC) for a year to further his research in crop improvement through the application of genomic and post-genomic techniques, which involve analyses of plants at both the molecular (gene) and physiological (whole plant) level.
"Genomic and post genomic tools are major drivers for development of agriculturally beneficial traits in crop plants" Tiago said. "A priority area for further development is to look for ways to enhance plant tolerance to increased concentrations of ground level (tropospheric) ozone. Currently, few efforts have used these tools to uncover mechanisms for enhancing ozone tolerance in one of the worlds' most valuable crop plants, maize".
"This research is important due to elevated concentrations of air pollutants posing a significant threat to the productivity of global maize (and other major cereal) crops. The most damaging of these pollutants is tropospheric ozone".
Tiago's project will involve the transfer of valuable tools developed at both UWA and UIUC. UIUC is a pioneer in analysing the impact of global change factors on crop plants, and Tiago will assist in efforts to screen over 200 candidate maize lines for ozone tolerance using innovative free air concentration enrichment (FACE) experimental field plots.This research will provide target maize lines from which to selectively breed ozone tolerant hybrids.
Tiago has a BSc and a PhD in biological sciences from the University of Western Australia. He currently works as part of a Grains Research & Development Corporation (GRDC) funded team at the Department of Agriculture of and Food Western Australia (DAFWA), who are looking to improve drought and cold tolerance of Australian wheat varieties in pre-breeding field trials. In his free time, Tiago enjoys participating in a variety of ocean sports, improving his Portuguese and travelling.