Martin Thoms
Senior Scholars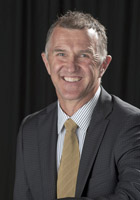 | | |
| --- | --- |
| Home Institution | University of New England |
| Host Institution | Winona State University |
| Award Name | Senior Scholarship |
| Discipline | Ecosystems Resilience |
| Award Year | 2012 |
"The world's floodplain-­rivers are valuable but threatened ecosystems. Questions on how resilient these ecosystems are to a range of impacts remain unanswered and the satisfactory resolution of how to manage these areas is a major challenge for the nation."
Professor Martin Thoms, the Head of the Geography Department at the University of New England, has won a Fulbright Senior Scholarship to go to the U.S. Geological Survey Organisation in La Crosse and the Large River Lab based at Winona State University for five months. Through his scholarship Martin extend an existing collaboration to examine the resilience of river ecosystems in relation to climate change.
Martin's project will build on his already extensive work into floodplain river ecosystems. He will identify opportunities to: 1) use nuclear technologies to solve important environmental issues; 2) prevent rivers moving towards negative change; 3) promote rivers towards positive change; and, 4) maintain rivers in a desirable state.
"Strategic adaptive management improves the resilience capacity of rivers and their ability to recover from the impacts of disturbances, like climate change. However information on how close rivers are to tipping points and the factors that push them towards tipping points is important in determining their resilience," Martin said.
His project will address significant knowledge gaps in relation to changing trophic structure of floodplain-rivers by reconstructing past and present food webs in aquatic ecosystems of lowland rivers of the Murray Basin and Upper Mississippi River.
Martin has a BSc and an MSc in geomorphology from the University of Canterbury in New Zealand and a PhD in Environmental Sciences from the University of Technology, Loughborough, U.K. His achievements include being appointed as independent scientific auditor to Murray Darling Basin Authority; a UN International Scientific Team member for river studies in the Kingdom of Lesotho; President (elect) of the International Society for River Sciences; several International Association for Hydrological Sciences research prizes; and, the Binghamton International Geomorphology Prize for innovation in geomorphology. His interests include mountain biking, aboriginal art and his two energetic retrievers.