Kristian Wale
Professional Scholars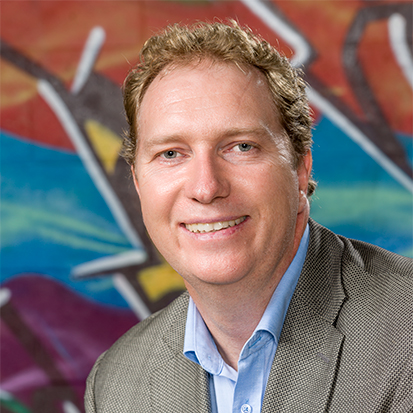 | | |
| --- | --- |
| Home Institution | Shaftesbury Centre |
| Host Institution | School of Social Transformation, Arizona State University |
| Award Name | Fulbright Professional Coral Sea Scholarship (Business / Industry) |
| Discipline | Juvenile Crime Prevention/Rehabilitation |
| Award Year | 2016 |
Kristian has been working with vulnerable young people for over 25 years. Having first started working on the streets of Brisbane with homeless young people in the early 1990s, he soon realised that education was a key factor in the prevention of youth disengagement. As a registered teacher and a former outdoor education worker, he has pioneered a number of alternative education programs and Special Assistance Schools across Queensland. Kristian has worked extensively in the not for profit sector with organisations such as Teen Challenge and Youth for Christ. He was seconded to Singapore in the mid 1990s to establish programs that targeted disenfranchised young people. In 1998, Kristian joined the Shaftesbury Centre as an educator and in 2007 was promoted to the position of Chief Executive Officer. In his role as CEO, Kristian has developed an innovative independent school named Arethusa College that caters for disenfranchised students from mainstream schools. Utilising unorthodox educational and learning methods such as bull-riding, animal assisted learning, building and riding skateboards made from imported Canadian maple, Arethusa College now has five campuses located in Queensland and is currently founding its sixth campus in Tasmania.
Kristian is an active member of his local community and has participated in everything from constructing orphanages in Mongolia to feeding the homeless across the state. A Rotarian for over 15 years, he is committed to contributing to positive change in the local community in a wide range of areas. Kristian was awarded a Winston Churchill Fellowship in 2009 and a Paul Harris Fellowship in 2013 in recognition for his work in the community.
Kristian is a strong advocate for working with Indigenous young people caught up in the juvenile justice system in Queensland. He has initiated a number of educational, agricultural and social enterprise programs that assist young people to acquire adequate skills in literacy and numeracy and transition into the workforce. As a Scholarly Visitor to the Centre for Indian Education housed within Arizona State University's School of Social Transformation, Kristian will conduct research on strategies used in Native American Reservations that target adolescent disengagement. An outcome of the proposed research is that Indigenous communities in Australia will benefit from some of these strategies being used in the United States and that this may assist in addressing the oversubscription of young Indigenous people being incarcerated.
Kristian will be accompanied by his wife and youngest daughter for the 12 week visitation to the United States.