Fulbright Commission Team
The Australian-American Fulbright Commission office is based in Canberra and is run by a small but dedicated team. Please contact us if you have any queries about the scholarship program, eligibility, application advice, Fulbright alumni network, or to find out how you can support the Commission.
Thomas Dougherty
Executive Director, U.S. Ambassador (ret.)
Email: Thomas.Dougherty@fulbright.org.au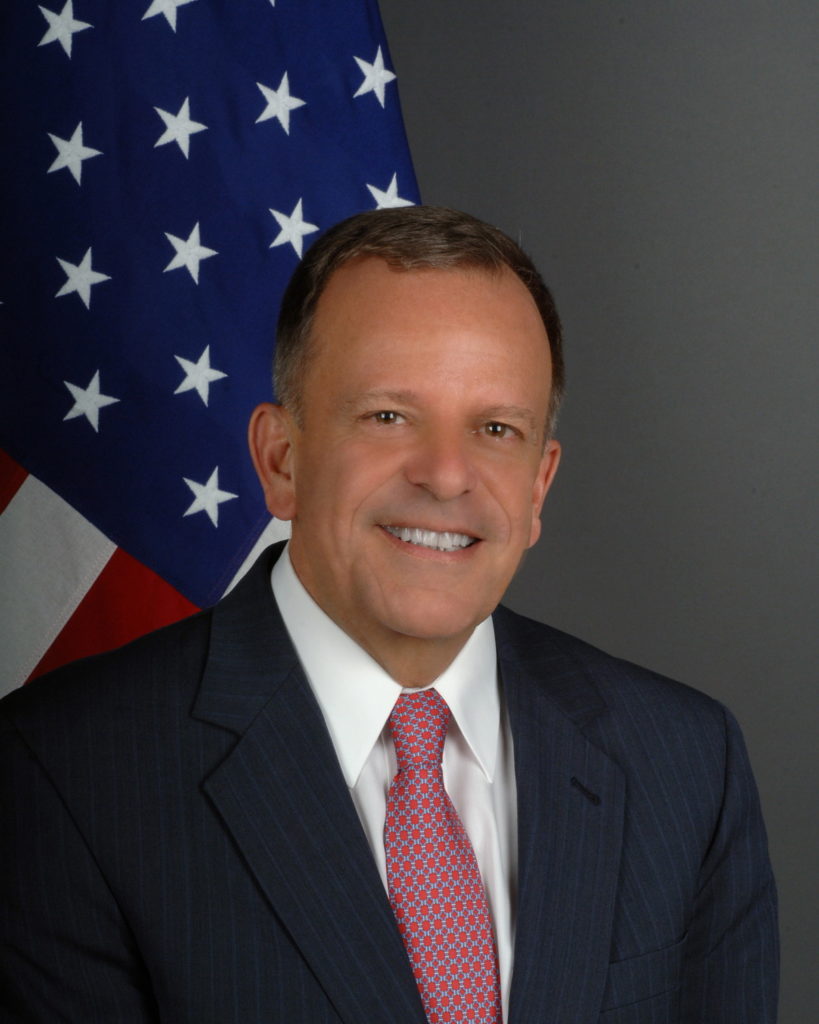 Tom was appointed as Executive Director of the Commission in August 2016.
A career diplomat, Tom served in Africa, the Middle East, Europe, Australia, and Washington. He was U.S. Ambassador to Burkina Faso from 2010-2013, and most recently was the Deputy Chief of Mission at the U.S. Embassy in Canberra from 2013-2016. After joining the State Department in 1989, he served overseas in Dakar, Senegal; Jeddah, Saudi Arabia; Brazzaville, Republic of the Congo; Asmara, Eritrea; Bonn, Germany; and Yaounde, Cameroon. He then served as Deputy Chief of Mission in Lilongwe, Malawi, and as Deputy Chief of Mission in Kinshasa, Democratic Republic of the Congo. He directed Fulbright programs in several countries, including the very large program in Iraq where he served as Minister-Counsellor for Public Affairs in 2009-2010. Prior to joining the U.S. Foreign Service, Tom worked in international schools in Belgium and Switzerland, and was a Fulbright grantee himself in Indonesia and Singapore in 1988.
A native of Wyoming, Tom graduated from Brown University, and did postgraduate work in Italy and California. His foreign languages are German, Italian, Arabic, and French. He is a member of the American Academy of Diplomacy and is active in not-for-profit development projects in Africa.
Ms Karen Coleman
Office Manager/Executive Assistant
Email: Karen.Coleman@fulbright.org.au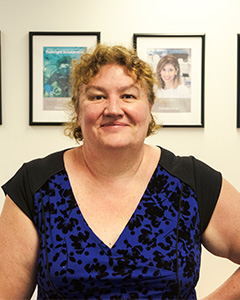 Karen joined the Australian-American Fulbright Commission in April 2017 and coordinates the office and the Executive Director, as well as providing administrative support to the Commission Team.
Karen came to the organisation with a strong administration background having worked in various positions for over 11 years, and in the not-for-profit sector for the past four years. Karen likes to travel with friends and enjoys following the netball.
Dr Pablo Jiménez
Alumni Relations Manager
Email: pablo.jimenez@fulbright.org.au
Pablo has worked in international education for 13 years. As part of the Commission Team, Pablo has held positions in Partnerships (2013-2014) and Alumni Relations (2015 to present). His main responsibility is to connect with, and involve alumni as partners in the advancement of the Fulbright Program. Additionally, he has administered the East Asia Pacific Regional Travel Program (2013 to 2016) and the Fulbright Specialist Program (2013 to present), and is the Commission Liaison for several universities in the Australian Capital Territory, New South Wales, the Northern Territory and Western Australia.
Pablo's degrees have been in Economics, Liberal Arts, Philosophy and Family Studies. His doctoral thesis explored the problem of political identity in the European Union. For over 12 years he tutored and lectured at several universities in Mexico and Australia. He has published academic articles in journals in Australia, the UK, Germany, Mexico and Spain, and short pieces in several online journals. He belongs to the editorial board of an international philosophy journal, and is an Adjunct Lecturer at the Institute for Ethics & Society, University of Notre Dame Australia. Pablo is fluent in Spanish and Italian, and can read in Portuguese and French.
Alex MacLaurin
Communications Manager
Email: Alex.Maclaurin@fulbright.org.au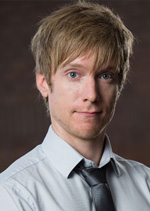 Alex joined the Australian-American Fulbright Commission in February 2015 after graduating from a double-degree in International Studies and Communications at the University of Canberra. His specialisations in the fields of interpersonal and intercultural communications bring a unique background to the diverse Fulbright team, and his expertise in journalism and graphic design has been put to good use in the development of the Commission's new flagship publication, Minds and Hearts.
Two years of study in Japan at St Paul's College, Tokyo and Aichi Shukutoku University have fostered within Alex an avid interest in, and deeper understanding of, the wider Asia-Pacific region, as well as fluency in Japanese language.
As a beneficiary of international scholarships, Alex is enthusiastic and motivated to help facilitate the same study abroad programs that helped him develop his skills in intercultural communication. The Fulbright community is the perfect environment for him to achieve these aspirations.
Tara Hawley
Scholarships Manager
Email: Tara.Hawley@fulbright.org.au  or fulbright@fulbright.org.au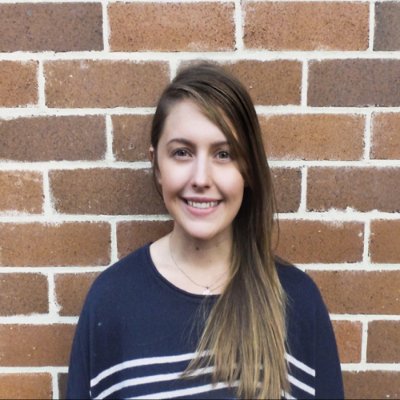 Tara is the Scholarships Manager at the Australian-American Fulbright Commission; the largest educational scholarship program of its kind. The program focuses on promoting mutual understanding through educational exchange.
Tara is responsible for all aspects related to the management of the Australian and U.S. scholarship programs, including the budget, promotion, recruitment, selection and recipient care for close to 100 scholarships on an annual basis.
Additionally, she is responsible for the fundraising and organisation of the Commission's key calendar events, including a 400+ person gala dinner, an annual orientation program and a Distinguished Chair lecture series. She also oversees the Commission's partnerships, managing all sponsorship relationships, contracts and more.
Mark Hardy
Business Manager
Email: Mark.Hardy@fulbright.org.au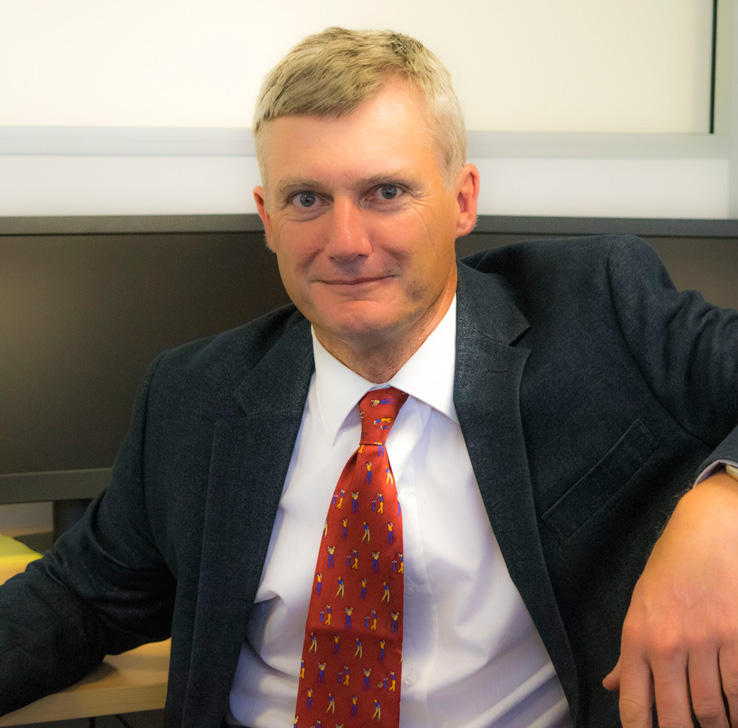 Mark joined the AAFC in Nov 2017 as Business Manager. He is a dynamic business manager, leader and team player, who has developed a unique blend of management skills and experience in helping proactive businesses and organisations improve their efficiency, systems and profitability.
He has over 30 years experience in marketing and business management positions with multi-nationals and SME's in Australia and has worked in various industries including the petroleum/oil, IT, occupational health and accounting industries. Mark is a versatile, resourceful and dedicated person who is motivated by new challenges and enjoys being part of a progressive team.
Lauren Bullman
Scholarships Officer 
Email: Lauren.Bullman@fulbright.org.au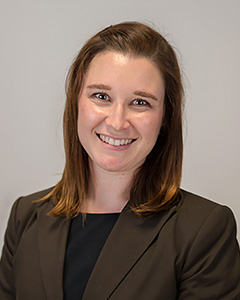 Lauren is the American scholarships officer and manages the U.S. scholars during their programs in Australia.
Having lived and worked overseas Lauren has a true passion for travel and understands the importance of people's desire to challenge themselves.
After obtaining degrees in Design at The University of Canberra and Canberra Institute of Technology, Lauren has found her passion in project management, promotion and event specialisation. Having worked in the Tourism industry for 8 years Lauren is inspired to apply this knowledge to promote a motivating, exciting and collaborative environment with the Fulbright Commission.
Rose Clapham
Rebecca Combs-Sullivan

Scholarships Assistant
Email: Rebecca.Combs-Sullivan@fulbright.org.au
Rebecca is the Scholarships Assistant, providing administrative support to the Fulbright team. Rebecca is very passionate about supporting people to reach their full potential and achieving great outcomes.
Rebecca has worked in the Education sector for 5 years. In this area, she has worked for a registered training organisation as well as a high school for disadvantaged and disengaged students.
Rebecca holds Certificate IV in Business Administration, Training & Assessment as well as a Diploma in Management.
Katie Mitrovica-Basha

Philanthropy/Fundraising Officer
Email: Katie.Mitrovica-Basha@fulbright.org.au
Katie joined the Commission in January 2018. She is the former Executive Director of the International Board on Books for Young People, a non-for-profit organization which represents an international network of people from all over the world who are committed to bringing books and children together, based in Basel, Switzerland. For the majority of her long career in education, she was a member of the senior faculty at the International School of Brussels where she successfully led the school's libraries through the profound transformations that evolving technologies generated as well as helping to design innovative mentoring programs both for novice teachers and young adults. Katie's 30-year commitment to public service saw her supporting democratic change in Kosova and Albania; developing partnerships between major cultural institutions in Belgium and Kosova; co-founding Reflexsion the first apolitical women's organization in Albania, and collaborating with her husband in his role as Albania's Ambassador to Belgium, Luxembourg and the European Communities.
Katie was born in Melbourne and has lived in Canada, Belgium and Switzerland. She graduated from Victoria College, University of Toronto
Fulbright Ambassadors
The Australian-American Fulbright Commission recognises the passion, prestige, contribution and significant impact that our Fulbright stakeholders bring to the Fulbright Program and the wider community locally and internationally.
The Fulbright Ambassadors Program is an exciting flagship initiative which has been developed to enhance the Commission's strategic engagement with all stakeholders across Australia and the United States.
A distinguished group of individuals has been selected by the Commission's Board of Directors to influence, engage and connect with Fulbright applicants, scholars, alumni, sponsors, partners and other stakeholders.
2016-2017 Fulbright Ambassadors
Professor Andrew Abell
Professor Abell is currently Professor of Chemistry at the University of Adelaide and node director of the ARC Centre of Excellence for Nanoscale Biophotonics (CNBP). Postdoctoral fellowship at the University of Cambridge with Professor Sir Alan Battersby and past recipient of a senior Fulbright award to work as visiting scientist and consultant with SmithKline Beecham (now GSK) in Philadelphia. Co-founded an Adelaide-based company Calpain Therapeutics, past Head of School of Chemistry and Physics University of Adelaide, and recent recipient of the Royal Australian Chemical Institute Adrien Albert Prize and Alexander R. Matzuk Prize and Lecture in Drug Discovery (Baylor College of Medicine, Houston).
Ms Anne Baly
Director, International, Australian National University. Formerly Group Manager, International Group, Department of Education and Training. She had responsibility for international strategy and engagement across education and research. This followed a three-year period as Head of the Science and Research Division in the Department of Innovation, Industry Science and Research. Anne was a member of the Fulbright Board from 2013 to 2016. Anne has extensive experience in tertiary education policy development and strategy in the Australian Government. During 2008, Anne was Secretary to the Review of Australian Higher Education (Bradley Review). During 2007, Anne was Minister-Counsellor (Education, Science and Training) at the Australian Embassy in Brussels. She has a Bachelor of Science degree from the University of Queensland.
Professor James Bishop AO
Professor Bishop AO was appointed inaugural Executive Director of the Victorian Comprehensive Cancer Centre in 2011 and Herman Chair of Cancer Medicine, University of Melbourne. Previously he was the Chief Medical Officer for the Australian Government and the founding Chief Executive Officer of the Cancer Institute New South Wales and Chief Cancer Officer for New South Wales. Other positions in NSW include Deputy Director General, Director of Population Health, Chief Health Officer (NSW Health), Director of Cancer Services and Director of the Sydney Cancer Centre (Royal Prince Alfred Hospital). In 2008, Professor Bishop was awarded an Order of Australia (AO), has published over 250 peer reviewed publications and research reports as well as 50 public health campaigns.
Mr Alex Carter
Mr Carter was a 2013-14 U.S. Fulbright awardee to Australia, and studied the transnational influence of the United States Black Arts Movement in Australia by examining political and cultural exchanges between African American and Aboriginal Australian activists in the 1960s and 70s. Special attention was paid to the establishment and growth of the National Black Theatre of Sydney, Aboriginal Activist Bob Maza, and African American dance instructor and administrator Carole Johnson. Alex is a native son of Washington, D.C. and a Ph.D. candidate in the W.E.B. Du Bois Department of Afro-American Studies at the University of Massachusetts, Amherst.
Professor Brenda Cherednichenko
Professor Cherednichenko is Executive Dean, Arts and Education at Deakin University. Her research has focused on educational equity and community-university partnerships for improved educational opportunity and socially just outcomes.  She has led research and development partnerships with communities and schools in Victoria and Western Australia, including Indigenous Australian leaders and communities, to enhance educational and social experiences for young people. Brenda was Chair of the ERA 2015 Review Evaluation Committee for Education and Human Society, is immediate past President of the Australian Council of Deans of Education (2012-2014), a Fulbright Senior Scholar (2009), and a Director of the Origin Foundation Board.
Mr Erwin Cho
Erwin Cho serves as Chief of Staff at Kaiser Permanente, America's leading non-profit integrated health plan. He has held a variety of leadership positions in business development as well as product innovation, development and management. Mr Cho earned his master's in public policy from the Harvard Kennedy School and his bachelor's degree in economics from UC Berkeley. He was also a Woodrow Wilson/Public Policy and International Affairs fellow at Princeton and was a Fulbright fellow to Australia. He currently serves on the national Board of Directors for the Fulbright Association, the official U.S. Fulbright Alumni Association.
Professor Kimi Coaldrake
Professor Coaldrake is Associate Professor at the University of Adelaide, Australia, where she is Head of Postgraduate Programs at the Elder Conservatorium of Music. She is a Fulbright Scholar and Affiliate-in-Research at the Reischauer Institute of Japanese Studies at Harvard University where she has previously been a Visiting Research Scholar. She is also a professional performer on Japanese koto (zither). She has published in the areas of Japanese music theatre and the incorporation of tradition into Japanese contemporary culture. Her current research uses Finite Element Analysis to investigate the acoustic properties of the koto and its relationship to the culture of sound in Japan. She is currently Chair of the Fulbright South Australian Selection Committee.
Professor Richard Eccleston
The Founding Director of the Institute for the Study of Social Change at the University of Tasmania, Richard's disciplinary background is in comparative and international political economy with an emphasis on tax policy and tax reform. He has published 6 books and over 50 articles on these and related topics. His research has been funded by numerous ARC grants and has had both national impact and international recognition. His latest book, The Future of Federalism: Intergovernmental Relations in an age of austerity, to be published in late 2016, reflects his research as a Fulbright Scholar in 2014.
Professor Sondra Farganis
Professor Farganis holds an AB from Brooklyn College (City University), an AM from the New School University and a PHD from the Australian National University. She is trained in political science and political and social theory and has written and taught in both those fields at Hamilton College, Vassar College and The New School. She is the author of The Social Construction of the Feminine Character as well as Situating Feminism. Her administrative work includes her directorship of the Wolfson Center for National Affairs and the Vera List Center for Art and Politics. She was a Fulbright recipient at ANU in the School of Law.
Professor Rod Hill
Professor Rod Hill is the Head of School, Biomedical Sciences at Charles Sturt University (CSU). Prior to this, he was the Strategic Adviser to the Vice President for Research at the University of Idaho in the USA. The overall theme of these projects aimed to improve health-care and socio-economic infrastructure in rural regions through the combined research and outreach efforts of the three major land-grant universities in the region. Professor Hill was also engaged in policy development, spending time in Washington, D.C. and working with some of the sixty organizations that represent higher education in Washington. Originally from Queensland, Rod spent 13 years working in the United States.
Mr Robert Jensen
Mr Jensen, Senior Managing Director of Strat3 LLC, brings more than 35 years of experience across a broad spectrum of assignments both inside and outside of the U.S. Government, most recently as the Principal Deputy Assistant Secretary for Public Affairs for the U.S. Department of Homeland Security. He ensured U.S. government communication efforts had the effect and outcomes needed to save lives, maintain public confidence and address complex international situations. He led the U.S. Government's on the ground crisis communications efforts in Iraq and Afghanistan, after the massive earthquake in Haiti, for the Deepwater Horizon oil spill, and for 30 major disasters in the U.S. including Hurricane Sandy for FEMA.
Professor Mary Kalantzis
Professor Kalantzis is Dean of the College of Education at the University of Illinois, Urbana-Champaign. She is a world leader in the 'new literacy studies', focusing on multimodality and diversity in contemporary communications. With Bill Cope, she is co-author or editor of: Multiliteracies: Literacy Learning and the Design of Social Futures, Routledge, 2000; New Learning: Elements of a Science of Education, Cambridge University Press, 2008/2nd edition 2012; Ubiquitous Learning, University of Illinois Press, 2009; and Literacies, Cambridge University Press, 2012. Her most recent work research and development work has focused on developing and testing a web application supporting teachers in the pedagogical design process.
Professor Philippa Kelly
Professor Kelly is professor and chair of English at the California Jazz Conservatory, and adjunct professor at the University of California, Berkeley. She works as Resident Dramaturg for the California Shakespeare Theater, Resident Dramaturg for the Napa Shakespeare Festival, and production dramaturg for the Oregon Shakespeare Festival. She was recently awarded a Bly Award for Innovation in Dramaturgy from the Literary Managers and Dramaturgs of America. She has published 12 books, the closest to her heart being The King and I (Arden Press, 2010). The King and I is a meditation on Australian identity through the lens of Shakespeare's King Lear.
Dr Rod Kennett
A Senior Research Fellow and Director of Native Title, Land and Water at the Australian Institute for Aboriginal and Torres Strait Islander Studies; and an Adjunct Professor at the University of Canberra. He was a 2013 Australian Fulbright Scholar based in Alaska studying Indigenous conservation-based livelihoods. He has published 50+ research papers and articles, and led numerous research and management programs in universities, non-government and government organisations. Trained as a biologist, he works on making science relevant and accessible to Indigenous and First Nations people, and on increasing Indigenous engagement in research and management.
Mr William Lang
Mr Lang's career started by selling hot-dogs as an undergraduate. He was a Commerce Faculty member at The University of Melbourne when he received a Fulbright Scholarship and graduated from Harvard Business School's MBA as a Macquarie Bank and Baker Scholar. He is the Executive Chairman of the Human Performance Group of Businesses, Dean of the Institute of Advanced Business Studies and Member of the Harvard Business School Alumni Global Engagement Group. Bill is the host of "The Business Improver" and "Career Success" TV series, author of the business and leadership fable "Scores on the Board®" and creator of the Engagineering™ Methodology. He has educated over 100,000 people through his presentations, TV series, publications and online services.
Professor Peter Leggat AM
Professor at the College of Public Health, Medical and Veterinary Sciences, James Cook University. Holds honorary professorships in six universities in three countries. He consulted for the Department of Defence, the Therapeutic Goods Authority and the World Health Organization. A medical graduate, he served in the Australian Army attaining the rank of Colonel. Professor Leggat also holds a number of positions in professional organisations, including Secretary-Treasurer, the International Society of Travel Medicine; Director of Training, St John Ambulance Australia, and President-Elect, The Australasian College of Tropical Medicine. A former Fulbright Scholar (2002-2003), he has published 500 journal papers, 20 books, and 80 chapters.
Dr Andrew Lu OAM
Dr Lu is a partner of Jarman McKenna. Formerly with Herbert Smith Freehills and Minter Ellison, he appears as trial and appellate counsel, representing insurers and Government. Andrew graduated LLB from the University of Western Australia, LLM from New England University, and Doctor of Juridical Science from the Australian National University. A health law editor for Halsbury's Laws of Australia, Andrew has published 70 peer-reviewed articles and chapters. He is a Fellow of ANZIIF, served on the Fulbright National Selection Committee, is a preeminent medical defence lawyer listed in Doyle's Guide and was awarded the Order of Australia in 2008.
Dr Navin Mahadevan
Dr Mahadevan is currently a resident in Anatomic Pathology at the Brigham and Women's Hospital in Boston, Massachusetts, USA. As part of his residency training, he is engaged in macroscopic, microscopic/histologic, and molecular diagnosis of tissue specimens from within the hospital and surrounding medical centers. He also takes part in translational tumor immunology research and is interested in the molecular determinants of clinical response to anti-tumor immunotherapy. He will be pursuing a fellowship in Molecular Pathology in the coming year.
Professor John Maynard
Professor Maynard is a Worimi man from the Port Stephens region of NSW. He is currently Director of the Wollotuka Institute of Aboriginal Studies at the University of Newcastle and Chair of Aboriginal History. He has held several major positions and served on numerous prominent organizations and committees. He gained his PhD in 2003, examining the rise of early Aboriginal political activism. Professor Maynard's publications have concentrated on the intersections of Aboriginal political and social history, and the history of Australian race relations.
Professor Iona Novak
Head of Research at Cerebral Palsy Alliance Research Institute, Sydney. Manages the strategic development of research into the prevention and cure of cerebral palsy and supports the Australian Cerebral Palsy Register. Conducts clinical research into effective interventions for people with cerebral palsy, including evidence-based practice initiatives and collaborative international and inter-agency research work. As a Fulbright Scholar in 2013, she visited the University of California, San Francisco to establish and lead an Australian-American cerebral palsy research consortium, to aggregate data and accelerate the rate of research. She continues this research to translate the findings to direct improvements in clinical services.
Professor John Pluske
Professor John Pluske holds an appointment in the School of Veterinary and Life Sciences at Murdoch University, Perth, Western Australia, where he is also President of Academic Council. Professor Pluske is a nutritional digestive physiologist working predominately in pigs (swine), and was recently made a Fellow of the Australasian Pig Science Association in recognition for his services to research, education and service in pig science. Professor Pluske was the inaugural Fulbright Distinguished Chair in Agriculture and Life Sciences at Kansas State University in 2014-15, where he worked on aspects of antimicrobial resistance in swine.
Mr Elliot Rothenberg
Fulbright Fellow Melbourne University 1964-65 and Harvard Law JD, he was the winning attorney in the landmark First Amendment case of Cohen v. Cowles Media, 501 U.S. 663 (1991). His briefs and oral arguments are published in full in Landmark Briefs and Arguments of the Supreme Court of the United States (1992). His case files and papers comprise a special collections archive in the Harvard Law School Library. Author of The Taming of the Press (Praeger 1999), "Whose First Amendment?" in: Defending the First (Routledge 2005), and many newspaper and journal articles. He has taught at many national constitutional law, First Amendment, and communications law seminars.
Professor Patricia Search
Professor Search is a multimedia artist and professor at Rensselaer Polytechnic Institute in Troy, New York. Her research and publications focus on multisensory data design and cross-cultural communication. In 2003 she was awarded a Fulbright Specialist Grant and went to Sydney, Australia to work with faculty and researchers at the University of Technology Sydney and Western Sydney University. She exhibits her art throughout the world and received a Fellowship in Computer Arts from the New York Foundation for the Arts. She was President of the International Visual Literacy Association and is Co-Editor-in-Chief of the Journal of Visual Literacy.
Professor Dharmendra Sharma
A Distinguished Professor and Chair of the University Academic Board at the University of Canberra. Prof Sharma's research background is in Artificial Intelligence. He is a Fellow of the Australian Computer Society, a Fellow of the South Pacific Computer Society, and a Senior Member of IEEE. Prof Sharma has regularly served on several industry, academic, and research bodies including company boards, government advisory and policy committees. He is serving as an external advisor and adjunct professor to several universities. He was the founding President of the South Pacific Computer Society and a Branch Executive Member of the ACS Canberra Chapter.
Professor Zlatko Skrbis
Professor Skrbis is currently Vice-Provost (Graduate Education) at Monash University, and is responsible for the strategic oversight of graduate coursework and research education across the Monash University system. He has an active and distinguished international research profile in sociology. He is the author of numerous articles and four books, and was previously a Professor of Sociology and Dean of the Graduate School at The University of Queensland. He was an elected convener of the Universities Australia Council of Deans and Directors of Graduate Research and the inaugural secretary of the Australian Council of Graduate Research.
Mr Alan Stanzler
A lawyer, corporate director and advisor to family offices and foundations on matters of wealth management, governance, and philanthropy. He has a J.D. from Harvard Law School and was a Fulbright Scholar at University of Melbourne Law School. Inaugural Chair of the Boston-Melbourne Sister City Association and a founding Director of the New England Australian Business Council. Served on boards at Brown University, Emerson College, and the Rhode Island School of Design. Also been a member of the Massachusetts Board of Library Commissioners, the Massachusetts Cultural Council, and the Massachusetts Attorney General's Advisory Board on Public Charities.
Professor Clare Sullivan
Dr Clare Sullivan is cyber lawyer and a Professor of Law at Georgetown University in Washington DC, USA. Professor Sullivan has a PhD in cyber-law and has been awarded both a Fulbright scholarship and an Australian government Endeavour Fellowship for her research in this field. She is the author of the book 'Digital Identity,' of internationally published articles on digital identity and cyber security, and the first report on international trade-based money laundering. In 2016, Professor Sullivan was appointed the Consultant to the Commonwealth Secretariat, London, for the 'A Legal Identity for All' initiative for the 54 Commonwealth Countries.
Mr Allan Young
Mr Young is an urban planner and public policy professional. He is regarded as a specialist in coastal, marine and environmental management. Allan is currently appointed as a senior environmental specialist within the NSW Government, and advises on coastal and natural resources policy, urban planning and environmental impact assessment. He was a Fulbright Scholar in 2013 and worked on coastal management in the Office of the Mayor in New York City as well as research at MIT and Harvard University.