What country, friends, is this?
Professor Gretchen E. Minton, PhD, 2022 Fulbright U.S. Scholar Award, James Cook University
I have lived abroad before, so I know very well that it is always transformative. My experience as a Fulbright Scholar in Queensland, however, took this to an entirely new level.
As a Shakespeare scholar and practitioner, I try to figure out how the words on pages that originated from the pen of a white man from a colonizing nation 400 years ago can continue to matter now, in a global, 21st-century context. I firmly believe that Shakespeare should not be a museum piece, because what makes the works interesting is the way that they are alive, ever changing from generation to generation, full of potential and possibility.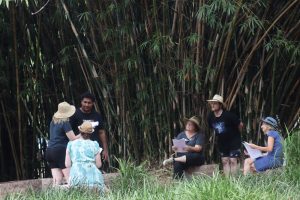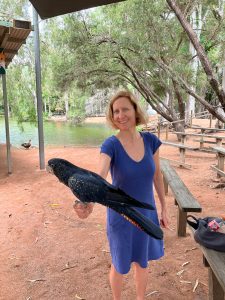 Given that the planet's environmental crisis is the most pressing issue of our time, I want to leverage Shakespeare into service to help us think imaginatively. Adaptation is of course not just a literary, but a biological process, so understanding the environment's own tendency to adapt is enmeshed with how humans and their stories adapt as well. In Twelfth Night, the main character, Viola, is in a shipwreck and washes up on a foreign shore. The first question she asks is,
"What country, friends, is this?"
During my 4 months in North Queensland, I have been asking myself this question: What is this place? What is it called, and what other names has it had? Who are the humans and more-than-humans who make up its environment? The opportunity to ask these questions, to fully immerse myself in this culture, its history, its ecosystems, has far exceeded my wildest dreams. It's one thing to know that place is important when discussing literature and the environment, but it's quite another to experience it.
These months have allowed me the time and space to read and write a great deal. But they have also reminded me of the balance between research, practice, and experience. Therefore, it is not just me, but my partner and our son, who have been transformed. Together we have met many people and have been welcomed into homes.
We've taken hikes and learned about the flora and fauna. We've dived at the Great Barrier Reef and we've also been to Ninney Rise—the home at Mission Beach that was the origin of the movement in the 1960s to save the Reef and declare it an international heritage site. My son Luke attended a local school, developed friendships with the students, played in multiple musical ensembles, and learned a great deal from his teachers as well.
We are all always learning, always asking "what country, friends, is this?", and trying our best to listen to the answers. My only regret about this experience is that it was such a short time, but I feel certain that we made the most of it.
When I think of the personal/professional/academic benefits of this experience, I'd like to take the slashes out between those terms, because the experience was utterly holistic. I end the Fulbright inspired, energized, and grateful. I feel that I have begun some important work that will definitely impact who I am and what I do when I return to Montana.
And hopefully by washing up as an alien on Queensland's shore, I made a difference to how people think about Shakespeare and current environmental challenges here in Australia as well.
Copyright © 2021 – Fulbright