Fulbright Program Celebrates 75 Years of Impact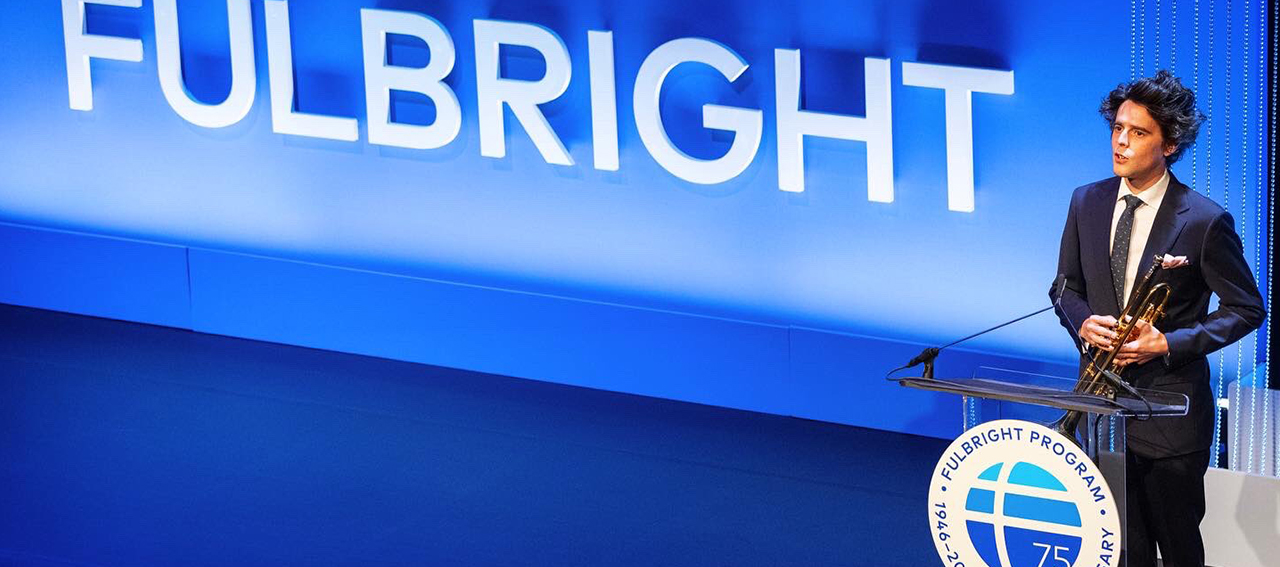 Alumni of Australian Fulbright Program were featured among those making their mark in education, the environment, public service, science, and the arts at the Program's 75th Anniversary celebration.
Canberra, Australia – Three Aussie Fulbrighters were featured in the Fulbright Program's 75th Anniversary celebration on November 30 at the John F. Kennedy Center for the Performing Arts in Washington, DC, marking the accomplishments of the past 75 years and looking ahead to the exciting future of the U.S. government's flagship international academic exchange program.
More than 400,000 talented and accomplished students, scholars, teachers, artists, and professionals of all backgrounds have participated in the Fulbright Program since its inception in 1946, including 40 heads of state or government, 61 Nobel Prize Laureates, 75 MacArthur Foundation Fellows, 89 Pulitzer Prize Recipients, and 16 U.S. Presidential Medal of Freedom Recipients.
Fulbright Australia alum Ambassador Thomas Pickering was featured in video remarks about Fulbright's impact on public service, musician Sam Nester was a featured performer, and choreographer Garth Fagan was highlighted in a special tribute to Fulbrighters who have contributed to the arts.
Ambassador Thomas Pickering (1954 Fulbright U.S. Student to Australia) advanced diplomacy and mutual understanding around the world during a diplomatic career that spanned four decades before retiring with the rank of Career Ambassador, the highest title in the U.S. Foreign Service. After earning a second master's degree on his Fulbright to Australia, he served in the U.S. Navy and then at the U.S. Department of State, where he held numerous senior positions, including Ambassador to El Salvador, India, Israel, Jordan, Nigeria, Russia, and the United Nations. In 1997, he was appointed as Under Secretary for Political Affairs, the third-highest post in the Department of State.
"I received the award of a Research Scholar under the Fulbright Program, in 1954," said Pickering. "As I pursued a career as a foreign service officer and applying what I did learn, particularly at the Fulbright in Australia, I think I was able to make a significant contribution over a number of years to American foreign policy."

Read Ambassador Pickering's Fulbright profile here, and view the 'Fulbright Alumni in Public Service' video.
Speaking to thousands of viewers around the world, U.S. Secretary of State Antony J. Blinken described the program's founding in 1946, immediately following World War II. "There was an urgent need to create lasting conditions for peace, to build mutual understanding among nations, to foster goodwill among their people. The Fulbright Program helped answer that need," Blinken said. "It brings people together through educational and professional exchanges, giving them a chance to learn about other countries and cultures, collaborate on issues of global importance, and create connections that last a lifetime."
Celebrating Fulbright's 75 years of impact, Blinken said, "As a diplomat, I love this program because it helps create the space for people to learn from each other and connect across cultural divides, which makes global cooperation possible. The members of the Fulbright community are changemakers. They care deeply about the problems facing our world today, from stopping COVID-19 to countering threats to democracy. And through Fulbright, they help strengthen our world, from classrooms, villages, universities, and cities across the globe."
The celebration highlighted more than 40 of these changemakers, focusing on five areas where Fulbright has made considerable contributions: public health, science, and technology; education; the environment; public service;  and the arts.  Guests at the event and the livestream audience heard personal stories and performances from some of the Fulbright Program's most extraordinary alumni, including recent participants as well as those who have had long and distinguished careers.
Two Members of the U.S. Congress who were Fulbrighters themselves — Congressman Tom Cole, 5th District of Oklahoma, a 1977 Fulbright U.S. Student to the United Kingdom, and Congressman John Sarbanes, 3rd District of Maryland, a 1984 Fulbright U.S. Student to Greece – were among Representatives and Senators who spoke about the value of Fulbright Program opportunities to their constituents and the world. Other well-wishers were Senator Patrick Leahy, Vermont; Congresswoman Barbara Lee, 13th District of California; Senator Amy Klobuchar, Minnesota; Senator John Boozman, Arkansas; and Former Congresswoman Nita Lowey, 17th District of New York.
U.S. Embassies and binational Fulbright Commissions around the world serve a very valuable role in the Fulbright Program, hosting U.S. Fulbrighters, selecting citizens from their countries to participate, and running high-level meetings and programs for Fulbrighters and alumni. To mark the 75th anniversary this year, U.S. Embassies and Fulbright Commissions around the world have hosted "Fulbright Days" in their countries.
Fulbright Australia hosted Fulbright Australia Day on 22 October, hosting an online discussion panel featuring four pre-eminent Fulbright Scholars, and moderated by Emmy award-winning journalist and Fulbright Board member, Sara James. The panel, titled "Old Programs, New Challenges: In a complex and changing world, what is the role of educational exchange?" discussed on some of the most critical issues facing democracy and international education over the next 75 years: Regional Security, Propaganda and Disinformation, Partisanship and Division, Equity of Access in Higher Education, Social Impact Causes, and Educational Exchange in a Post-COVID world. Panelists included Western Sydney University Chancellor Prof. Peter Shergold AC; International Intrigue author/co-founder, Helen Zhang; Non-Profit Leader, Adam Davids; and Diplomates – A Geopolitical Chinwag host, Misha Zelinsky. Check out the recording of the panel discussion here.
Visit Fulbright75.org to stream the recorded U.S. celebration and learn more about notable alumni, and see how to apply to Fulbright Programs for students, scholars, teachers, and professionals and how to connect with the Fulbright community.
Read more about Sam Nester and Garth Fagan below:
Sam Nester (2012 Fulbright Student from Australia) is a trumpet player, music educator, and "eco-composer." He has performed at Lincoln Center's Mostly Mozart Festival, Lincoln Center Out of Doors, the Beijing Modern Music Festival, the BAM Next Wave Festival, the Paris Opera Ballet, Wordless Music Orchestra, Mark Morris Dance Center, and the Festival of New Trumpet Music. As a Fulbright student, he completed a master's degree in Music Performance at the Manhattan School of Music, where he went on to earn a Doctor of Musical Arts degree and join the faculty. In his role as an "eco-composer," he has designed public art and sound installations in natural spaces as the U.S. National Parks Foundation Artist-in-Residence for Hawai'i Volcanoes National Park; as a Bruny Island Foundation Artist-in-Residence; for the City of Hobart, Australia; and for George Mason University's campus, where he designed a yearlong interactive light and sound installation. He has taught and designed interactive education programs for several New York-based organizations and institutions, including Juilliard's Music Advancement Program and the Bridge Arts Ensemble. He is a recipient of the Australian Music Foundation Award, the Brian Boak Outstanding Performer Award, and the American Australian Association's Dame Joan Sutherland Fund grant. In addition to his graduate degrees, he earned bachelor's degrees from the Queensland Conservatorium at Griffith University and the Western Australian Academy of Performing Arts at Edith Cowan University. Check out Sam's Bruny project here.
Garth Fagan (1996 Fulbright U.S. Scholar to Australia and New Zealand) is a Jamaican-American modern dance choreographer who is the founder and artistic director of Garth Fagan Dance. His choreography has been featured at the Dance Theater of Harlem, the Alvin Ailey American Dance Theater, and the Limón Dance Company. He received a Tony Award as well as Drama Desk, Laurence Olivier, Astaire, and Outer Critics Circle Awards for his groundbreaking work in the Broadway Musical The Lion King. See tribute to notable Fulbrighters in the arts here.
Copyright © 2021 – Fulbright