Dr Paul Harpur Named Blind Australian of the Year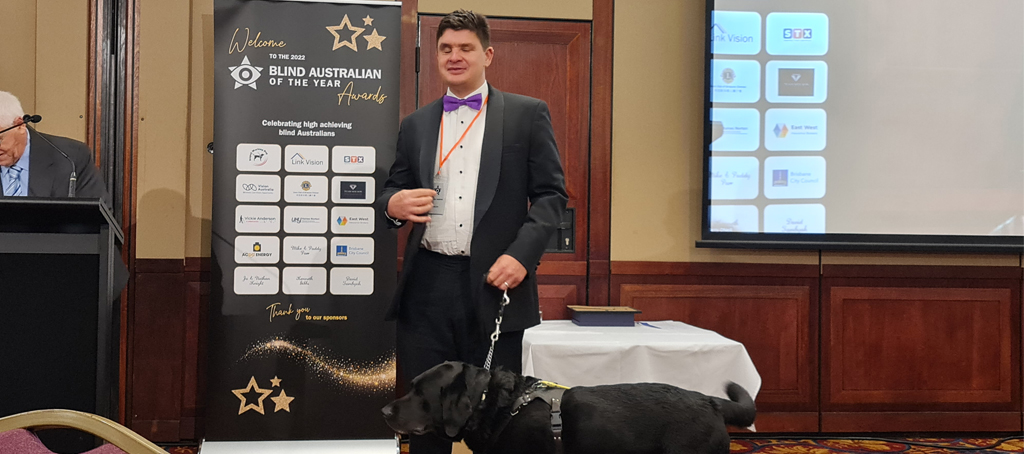 The Blind Australian of the Year Award was announced this month, and we were thrilled to hear that Dr Paul Harpur, 2019 Fulbright Future Scholar, was named as the winner.
Harpur, now an Associate Professor at the TC Beirne School of Law at the University of Queensland, and chair of the University of Queensland Disability Inclusion Group, has had an incredible couple of years.
He was awarded a Fulbright Future Scholarship in 2019, and in 2020 worked at the Harvard Law School Project on Disability. His plan from there was to travel to Syracuse University's Burton Blatt Institute, before COVID-19 cut his Fulbright experience early and sent him home. This was barely a roadblock for Paul, however, as he pivoted his research examine the impact that public health crises have on society's most vulnerable, subsequently winning a 2021 Australian Research Council Future Fellowship. He now adds the Blind Australian of the Year award to his collection of accolades.
The Blind Australian of the Year Award recognises and celebrates Blind Australians who by example inspire others to excellence, by action, improve Australian life.
This year there were 58 nominations from all around Australia from many different walks of life, from the legal fraternity, the media, refugee assistance, the arts, music, culinary pursuits, fashion, medical professions, and sport.
Terry O'Neill, CEO of Link Vision, organizer of the 2022 Blind Australian of the Year program, explained that "an independent judging panel of 5, both sighted and unsighted, had the very unenviable task of selecting 3 finalists, from which we eventually had a recipient and 2 runners up."
The Link Vision charity was established in Brisbane in 1968 and has maintained their vision to enhance the lives of people with low or no vision, and /or other disabilities. Link Vision provide heavily discounted, specialised accommodation for people with low or no vision, and assistance to children of all disabilities in schools, and of course host the Blind Australian of the Year Awards.
On his Fulbright, and now as Blind Australian of the Year, Dr Harpur strives to realize his vision.
"I dream of a more inclusive world. a world where ability differences are valued as diversity. A world where we stop thinking of them and us, and instead understand and accept the other, and just talk in terms of us" explains Dr Harpur.
Dr Harpur goes on to recall that Senator Fulbright explained:
"The essence of intercultural education is the acquisition of empathy-the ability to see the world as others see it, and to allow for the possibility that others may see something we have failed to see, or may see it more accurately. The simple purpose of the exchange program…is to erode the culturally rooted mistrust that sets nations against one another. The exchange program is not a panacea but an avenue of hope."
"I see Senator Fulbright's vision coming through in my work. Senator Fulbright used understanding cultural differences as a means to avoid war. I compare cultures to help find a path to a more inclusive world" explains Dr Harpur.
"The new disability politics is creating a world where disability can be regarded as a diversity and inclusion group, and not as a means of tragedy or a trigger for exclusion from citizenship, economic rights or the community." Dr Harpur summarizes his vision in a short phrase:
"You don't need sight to have vision."
Copyright © 2021 – Fulbright