New Fulbright Partnership with the University of Wollongong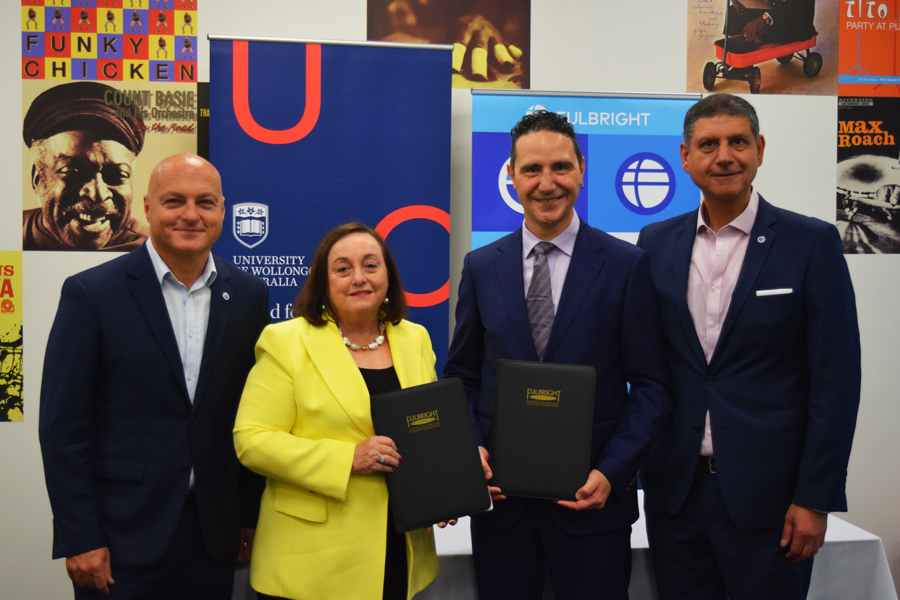 University to fund two Fulbright Scholars annually under five-year agreement
A new partnership between the University of Wollongong (UOW) and The Australian-American Fulbright Commission will enable outstanding professionals and academics from the United States to undertake study or research in Wollongong.
The agreement will see UOW become a destination for Fulbright Scholars, part of one of the most renowned scholarship programs in the world.
During the signing ceremony in Canberra today (Wednesday, 24 November), UOW Vice-Chancellor Professor Patricia M. Davidson said the partnership would showcase the research, teaching, and learning excellence of the University to an international audience and strengthen ties between Australia and the United States.
"We are thrilled to be working alongside The Australian-American Fulbright Commission on this exciting initiative. It is a huge honour for UOW to be part of such a prestigious scholarship program, and for scholars from the US to be able to experience our exceptional capabilities in a beautiful destination," Professor Davidson said.
"I spent many years living and working in the United States. It is a place that I hold very dear to my heart. The relationship between the two countries is of the utmost importance, and maintaining those deep education, research and cultural connections will be central to this initiative. We have so much to learn from each other.
"The Fulbright experience is an outstanding one, providing Australian scholars with amazing outstanding engagement opportunities. The agreement will facilitate the flow of esteemed scholars back and forth between UOW and the United States, and will enable us to commence new and deep relationships."
Professor James Arvanitakis, Executive Director of The Australian-American Fulbright Commission, said the new partnership with UOW would be beneficial for scholars in Australia and in the US.
"With the announcement of the new AUKUS treaty, avenues for research collaboration with the US have become more valuable than ever. We're proud to welcome Wollongong into the Australian-American Fulbright Program, and excited for the myriad opportunities this will open up for scholars from both countries," Professor Arvanitakis said.
"We have enjoyed a strong Fulbright presence in Wollongong, with a number of prominent alumni on campus including Deputy Vice-Chancellor (Global Strategy) Alex Frino, who travelled to Georgetown University in Washington DC via the Fulbright Program in 2005.
"This new agreement will now see a leading American Fulbright Scholar on campus for the next five years working with Wollongong academics to further enhance their world-class research."
Under the five-year agreement, UOW will fund two scholars from the US each year. The scholars will spend up to four months in Australia, at UOW, conducting their research in areas of importance to UOW.
Fulbright Scholarships are among the most prestigious in the world, and provide exceptional opportunities for recipients from all walks of life and all stages of their careers.
Eligible scholars from the US will be at the Associate Professor level or higher, and must meet the criteria outlined by The Australian-American Fulbright Commission. The first Fulbright Scholar will commence at UOW in 2024.
Eleven UOW staff members and a number of alumni have been named Fulbright Scholars in the past. These include Misha Zelinsky, who graduated from UOW in 2007 with a Bachelor of Laws/Bachelor of Commerce. The recipient of a Fulbright Professional Scholarship, Mr Zelinsky is currently based at the US State Department in Washington, D.C.
In 2019, Dr Simon Cook, who received his PhD from UOW, was named a Fulbright Future Scholar for his work in developing a medical technology that could prevent the spread of sexually transmitted infections and unplanned pregnancies in developing countries.
The Australian-American Fulbright Commission promotes education and cultural exchange between Australia and the United States, with a scholarship program providing support for students and scholars to study and research in either country.
Copyright © 2021 – Fulbright