"Manhappiness" in the "Little Apple"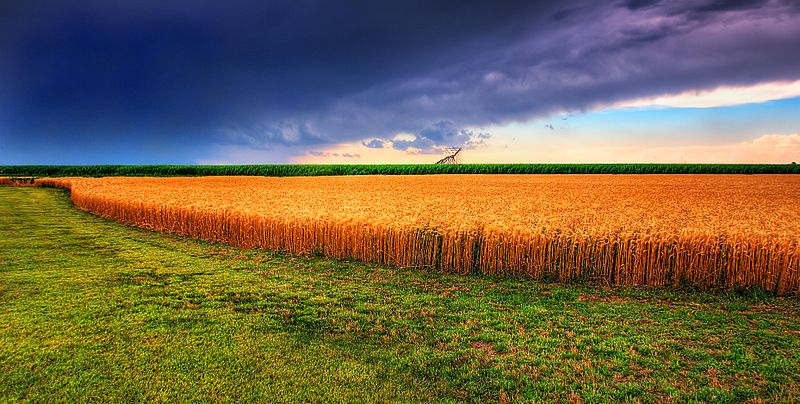 By Fulbright Alumnus Ralf Dietzgen (awarded 2016)
"My stay in the United States also provided me with an opportunity to meet fellow Fulbrighters from around the world by attending one of the enrichment programs…There were excellent discussions with industry and university researchers… – an excellent opportunity to learn more about our American hosts and to bond with Fulbright Fellows from many other disciplines and countries."
---
I had never heard the term 'Manhappiness' before coming to Manhattan, Kansas, the 'Little Apple'. As I learned while living in this wonderful town near the Tallgrass Prairie and home of the Wildcats, this term reflects the state of being in Manhattan – everyone in this town was always super friendly, helpful to others and kind, leading to a feeling of happiness and wellbeing all around.
I was awarded a Fulbright Senior Fellowship that was sponsored by Kansas State University (KSU), a famous agricultural school roughly in the centre of the United States. I went there to learn from and collaborate with my colleagues, Professors Dorith Rotenberg and Anna Whitfield who are at the forefront of scientific research on the molecular interactions of plant viruses and their thrips vectors. Thrips are tiny insects, only a few millimetres long as adults, that transmit tospoviruses, named after the best-known member tomato spotted wilt virus. Once infected with these plant viruses, the viruses multiply in the insect and can be passed on to new plants when thrips feed. I worked closely with a PhD student and postdoctoral researcher to compare genetic data and learned how to pull ultra-thin capillaries to micro-inject thrips to try and specifically knock-down some of their essential genes for future insect control.
With my KSU hosts Dorith Rotenberg and Anna Whitfield
---
Besides my research at the Department of Plant Pathology, I also exchanged job experiences and approaches with KSU academics who were involved in postgraduate education, like myself. In addition to my research role, I am the Postgraduate Coordinator for the Queensland Alliance for Agriculture and Food Innovation, a research institute at the University of Queensland (UQ) and have responsibility for the candidature progression of over 120 MPhil and PhD students. Interestingly, as it turns out, we are dealing with quite similar issues in Australia and the United States in the mentoring of higher degree by research students. I was pleased to see that KSU had introduced the 3-Minute-Thesis competition that had been invented at UQ and has since been adopted by many universities around the world. Students are challenged to describe the essence and significance of their research project to a broad audience in less than 3 minutes with only one static slide.
Since we should strive for a work-live balance, and I enjoy the outdoors, I visited the near-by Konza Prairie on occasion and much enjoyed the wildflowers that emerged in profusion in Spring. My hosts also took the research team members to a Tallgrass Prairie reserve managed by the National Parks Service, where we could experience wild buffalo. They took us around in a school bus for some close encounters with these amazing big animals.
My stay in the United States also provided me with an opportunity to meet fellow Fulbrighters from around the world by attending one of the enrichment programs. Being interested in agriculture and food, I chose "Feeding the world: Global food resources and sustainability", held over 4 days in Minneapolis, MN. There were excellent discussions with industry and university researchers, and we were helping as food packing volunteers at Second Harvest for an afternoon – an excellent opportunity to learn more about our American hosts and to bond with Fulbright Fellows from many other disciplines and countries. This experience was a real highlight of my Fulbright visit.
In summary, I had an enjoyable and educational Fulbright experience in the United States. I continue to collaborate with my KSU hosts who since moved to new facilities at North Carolina State University, where I briefly visited them the following year. I look forward to continue my involvement with the Fulbright alumni network in Australia.
Have comments / questions or wish to share your Fulbright Story too? Send us a note to: alumni@fulbright.org.au
Copyright © 2021 – Fulbright