Fulbright Scholars Arrive at Western Sydney University

Two visiting scholars from the United States were welcomed to Western Sydney University this month as part of the prestigious Fulbright Scholarship program.
Victor Lopez-Carmen and Maureen Kessler are both spending the next 10 months conducting research at the University, after they were awarded the inaugural Fulbright Postgraduate Scholarship, Sponsored by Western Sydney University.
Victor and Maureen were officially awarded at the 2018 Fulbright Gala Presentation Dinner, held at Parliament House in Canberra. Both are pleased to have the opportunity to further their research at Western Sydney University and work with their Australian peers, and take that experience and knowledge back home with them to the United States.
Victor, who graduated with a Bachelor of Science (Health Sciences and Chemistry) from Ithaca College in New York State last year and is on the path to becoming a doctor, is researching Aboriginal socio-cultural health and wellbeing as part of his scholarship. He is specifically looking at the social and cultural effects on Aboriginal parents who send their children to boarding schools in big metropolitan cities.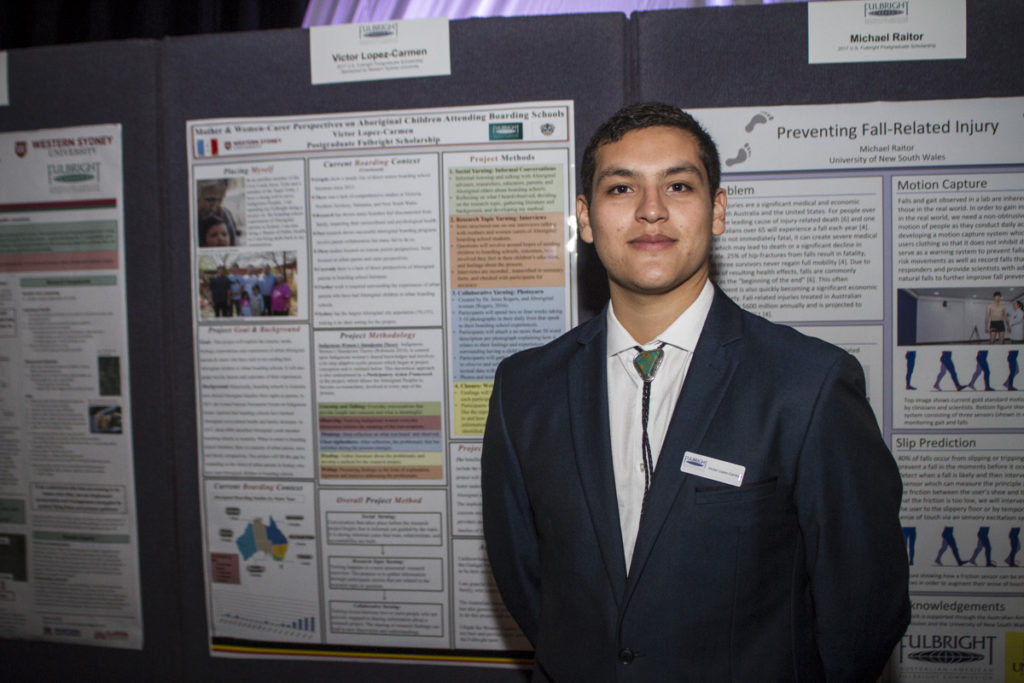 His research is timely and important work that furthers the campaign for Indigenous health equality in Australia, and he hopes it will lead to more culturally sensitive support for young Aboriginal boarders and their families.
"These are children at a formative age, who have left their community to go away to school in a major metropolitan city because of a lack of secondary education opportunities, and as a result can become disconnected from their Aboriginal culture and heritage. The risk of dropping out, as well as other adverse health outcomes, can be high," says Victor.
"We hope to shed light on the role that parents and family plays in the transition process."
Maureen, a PhD candidate who is studying ecology and environmental sciences at Montana State University, is investigating flying-foxes in Australia, to better understand how Hendra virus begins and how it can spread to both horses and humans.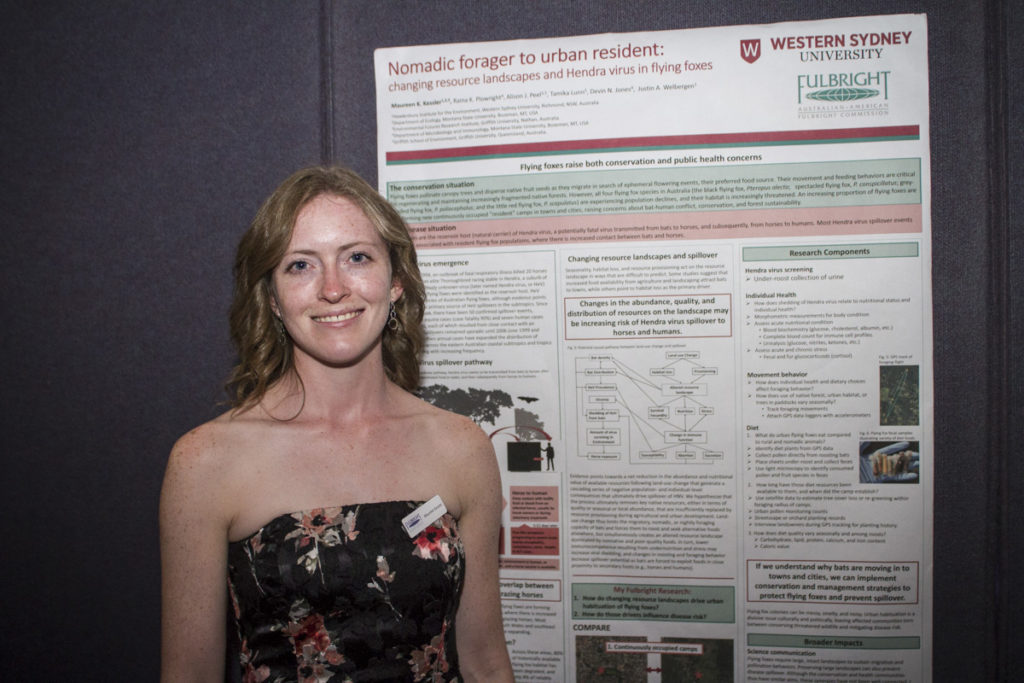 Working with renowned bat expert and President of the Australian Bat Society, Dr Justin Welbergen from the University's Hawkesbury Institute for the Environment, Maureen is spending a significant amount of time studying the diet of flying-foxes around the Sydney, Brisbane and Adelaide areas.
"The issue of flying-foxes increasingly moving into urban areas seems to be the result of complex changes in their environment," explains Maureen.
"The encroachment of urban areas into forests and removal of native trees through clearing has changed flying-foxes' natural food sources but we don't yet fully understand the relationship between environmental changes, movement of flying-foxes into urban locations and the risk of transmitting Hendra virus to horses on the urban fringe.
"Flying foxes are highly-mobile animals that move long distances to find food. Our towns and cities now often offer a stable food supplies which is why we think they are coming into urban areas."
Most flying-foxes have an extremely low risk of risk of transmitting Hendra Virus but stressed animals can increase the shedding of viruses in their excretions.
"Understanding this relationship between the environment, flying-fox movements and stress, and impacts on populated regions is the major goals of my research. The Fulbright Scheme offers a wonderful opportunity with the world's leading experts in flying-fox ecology – and to visit Australia!" she says.
Western Sydney University Vice-Chancellor, Professor Barney Glover, said the Western Sydney University-sponsored Fulbright Scholarship enables postgraduate students from the U.S. to undertake research in fields that are particularly important to the University, in areas such as the environment, public health, and the creative and performing arts.
"The University is very pleased to support this postgraduate scholarship and help further meaningful educational and research ties and cultural exchanges between Australia and the United States," said Professor Glover.
"We welcome both Maureen and Victor as our first Western Sydney University Fulbright Scholars. We hope they enjoy their time here in Australia, and wish them the very best with their respective projects and look forward to the research outcomes."
Thomas Dougherty, Executive Director of the Australian-American Fulbright Commission said the Commission was excited to hear that Western Sydney University had elected to fund two awardees in the inaugural year of the Fulbright U.S. Postgraduate Scholarship at the University.
"Maureen and Victor are exceptional scholars working in very unique fields, and the decision to accept both of them in 2018 speaks to the breadth and flexibility of the research facilities at Western Sydney University," said Mr Dougherty.
"We look forward to following the individual journeys of these two fascinating Fulbright Scholars, and have great expectations for this program over the coming years."
The Fulbright Program is the flagship foreign exchange program of the United States. First established in 1946, it has grown to become the largest educational exchange program in the world, operating in over 160 countries. In its 70 year history, the Australian-American Fulbright Commission has enabled over 5,000 students, scholars and professionals to travel between the two countries for study and research.
Copyright © 2021 – Fulbright