Barra Expert to Research Fish Migration in the U.S.

A Charles Darwin University researcher who has been working to secure the future of one of the Northern Territory's most prized fish species will travel to the United States this year to take up a Fulbright Professional Scholarship.
Research Institute for the Environment and Livelihoods principal research fellow Dr David Crook will travel to the Woods Hole Oceanographic Institute in Massachusetts and Oregon State University to work with researchers on the behaviour of migrating fish.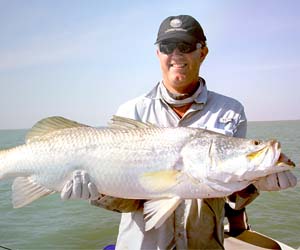 Dr Crook, who has been tracking the movements of barramundi in the Roper River and Kakadu National Park since 2012, will undertake collaborative research on barramundi from tropical Australia and Pacific salmon from temperate U.S.
"Both species migrate between freshwater and marine habitats for spawning," he said.
"As migratory fish move between habitats they transfer energy in the form of carbon and nutrients, which are critical to local food webs where it helps sustain a range of ecosystem processes."
He said that the growing global human population's increasing demand for fresh water put at risk fish migration networks and food web connectivity.
"In many cases, fish migration pathways have been completely blocked and the associated flow of energy among ecosystems no longer occurs," he said.
"It is vital that we are able to better quantify the material transported by migratory fish to improve our understanding of aquatic food web structure and function to inform conservation and sustainable fisheries."
While in the US, Dr Crook will add to his ongoing research applying techniques including otolith (earstones) chemistry to improve understanding of the migrations and population connectivity of fish species.
"Analyses of fish otoliths of barramundi and Pacific salmon will be used to quantify the transport of assimilated energy and nutrients across ecosystem boundaries by migratory fish," he said.
"The project will help support sustainable fishery management and provides an opportunity for ongoing collaboration among fisheries scientists in Australia and the U.S."
Dr Crook has 25 years of experience in fish ecology research within the government and university sectors. He has written more than 90 peer-reviewed scientific papers and book chapters, and was the 2010 winner of the Australian Society for Limnology's Early Career Excellence award.
He will travel to the U.S. in August.
Courtesy Charles Darwin University Newsroom
Copyright © 2021 – Fulbright