Professor Leigh Goodmark FSP Visit a Resounding Success
Fulbright Specialist Professor Leigh Goodmark, distinguished Professor of Law and Director of the Gender Violence Clinic at the University of Maryland Frances King Carey School of Law was hosted by The University of Queensland TC Beirne School of Law in July and August through funding from the 2015 FSP grant. During her time in Australia, Professor Goodmark visited various institutions, lead seminars and presented public lectures in her Specialist disciplines of Gender Violence and Criminal Justice in Sydney and Melbourne, hosted by The Australian National Research Organisation for Women's Safety (ANROWS).
Professor Goodmark's visit was a resounding success, receiving a glowing appraisal from host university representative Professor Heather Douglass of The UQ Law School.
"Professor Goodmark's visit provided a wonderful opportunity to gain a better understanding of legal responses to domestic violence in the USA." She said.
"Professor Goodmark provided some wonderful insights into running student clinical programs within law schools in the USA, and some of those insights will help to inform us as we further develop our clinical programs here."
Professors Douglas and Goodmark gave evidence at the public hearings of the Victorian Royal Commission into Family Violence, focussing on the role of criminal justice responses to domestic violence. They also discussed the criminal justice response to domestic violence on ABC's Radio National's Law Report. Drawing on her experiences in running a Gender Violence Clinical program at her law school, Professor Goodmark shared her insights with students involved in the Manning Street Project  at the Pro Bono Roster at UQ.
Video recordings of Professor Goodmark's seminars and lectures can be viewed on the UQ Law School website.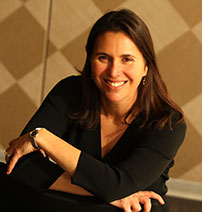 Professor Leigh Goodmark, Director of the Gender Violence Clinic at the University of Maryland Frances King Carey School of Law
One of the foremost experts on domestic violence, Professor Goodmark's book, A Troubled Marriage: Domestic Violence and the Legal System, was named a CHOICE Outstanding Academic Title of 2012. Her work on domestic violence has appeared in various journals and law reviews, including Violence Against Women, the Harvard Civil Rights-Civil Liberties Law Review, and the Yale Journal on Law and Feminism.
The Fulbright Specialist Program (FSP) awards grants to Australian universities and other educational or research institutions to invite U.S. academics and professionals accepted into the Fulbright Specialist Roster in a wide variety of disciplines to engage in short-term collaborative projects. Shorter grant lengths give Specialists greater flexibility to pursue projects that work best with their current academic or professional commitments. Applications for the 2016 Fulbright Specialist Program grants open on 1st July 2015.
For more information on the Fulbright Specialist Program visit our website.
Copyright © 2021 – Fulbright