National Media Attention for Fulbright Scholars
The 2015 Fulbright Scholar Showcase and Presentation Dinner Event garnered significant media attention from local and national news outlets for our Scholars and the Commission. During the three days in Perth there were reporters conducting interviews with the Scholars, requests for images and quotes, and live radio interviews.
See below for just a few examples of Fulbright Scholars in the media spotlight.
Dean Jarrett, 2015 Fulbright Indigenous Postgraduate Scholarship
Sponsored by the Australian Government, Department of the Prime Minister and Cabinet
Radio Interviews
Donna Campbell, Central Australian Aboriginal Media Association, NT, Feb 17 2015
ABC Radio, Speaking Out, QLD, Feb 24 2015
Peggy Giakoumelos, SBS World News, NSW, Feb 26 2015
Professor Anthony Maeder, 2015 Distinguished Chair in Agriculture & Life Sciences 
Sponsored by Kansas State University
Stephane Shepherd, 2015 Fulbright Postdoctoral Scholarship in Cultural Competence
Sponsored by the National Centre for Cultural Competence, The University of Sydney
William Lempert, 2014 Fulbright Postgraduate Scholarship
Radio Interviews
ABC Northwest Morning Show. Karratha, Australia. Feb. 23, 2015
ABC Kimberley Morning Show. Broome, Australia. Feb. 17, 2015
Community Show on the PAKAM Network. Beagle Bay, Australia. Feb. 11, 2015
National Indigenous Radio Service (NIRS). Broome, Australia. Jan. 8, 2015
Dr Stuart Tangye, 2015 Fulbright Senior Scholarship
Tim McCormack, 2015 Fulbright Senior Scholarship
Dr Scott Chapman, 2015 Fulbright Senior Scholarship
Sponsored by Kansas State University
Dr William Feeney, 2015 Fulbright Postdoctoral Scholarship
Annette Stewart, 2015 Fulbright Professional Scholarship in Non-Profit Leadership
Sponsored by the Origin Foundation and Supported by the Australian Scholarships Foundation
Kathryn Zealand, 2015 Fulbright-Anne Wexler Scholarship in Public Policy
Sponsored by the Australian Government, Department of Education and Training
Dr Emma Barrett, 2015 Fulbright New South Wales Postdoctoral Scholarship
Dr Wendy Nembhard, 2014 Fulbright Senior Scholarship
Matthew Crowley, 2015 Fulbright Professional Coral Sea Scholarship
Dr Gayle Maloney, 2015 Fulbright Western Australia Postdoctoral Scholarship
Radio Interviews
Radio 6PR Perth, Australia. Feb. 19, 2015
Dr Robert Marshall, 2015 Fulbright Northern Territory Postgraduate Scholarship
Tracey Steinrucken, 2015 Fulbright Queensland Postgraduate Scholarship
Adam Lockyer, 2015 Fulbright Professional Scholarship in Australian-United States Alliance Studies
Sponsored by the Australian Government Department of Foreign Affairs & Trade
Dr Ted Lefroy, 2015 Fulbright Tasmanian Senior Scholarship
Briony Swire-Thompson, 2015 Fulbright Western Australia Postgraduate Scholarship
Simon Jarman, 2015 Fulbright Professional Scholarship
Robert Fowler, 2015 Fulbright Professional Scholarship in Climate Change and Clean Energy
Sponsored by the Australian and U.S. Governments
Joel Fuller, 2015 Fulbright South Australian Postgraduate Scholarship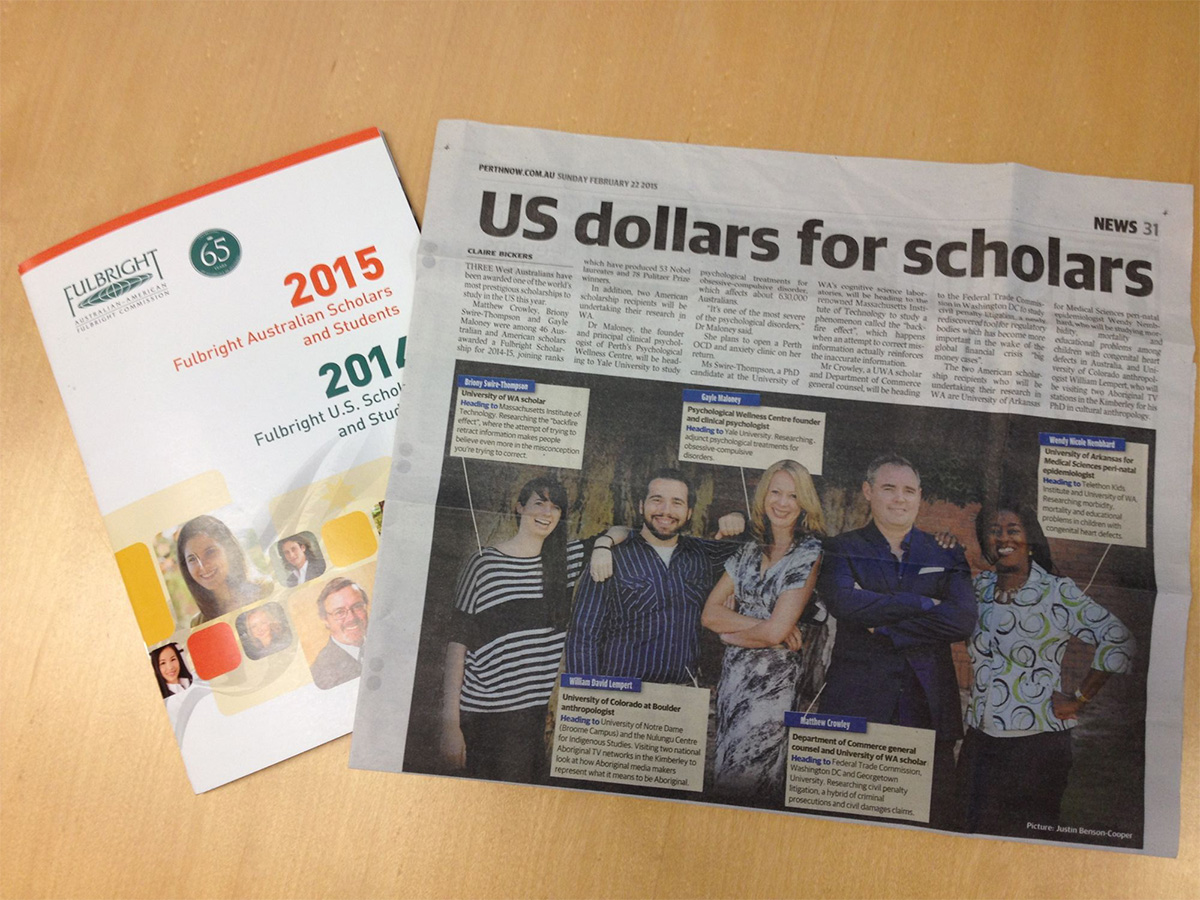 Sunday Times Article on Fulbright Scholars in Western Australia
For all media enquiries, please contact Alex Maclaurin at the Australian-American Fulbright Commission
E: Public.Relations@fulbright.com.au P: (02) 6210 5696
Copyright © 2021 – Fulbright