Fulbright Alumni Archives: Dr Joan Tully
"Our future is not in the stars but in our own minds and hearts." Senator J. William Fulbright, 1967.
Senator Fulbright's vision to create a better world through educational and cultural exchange is realised each year as Fulbright Scholars cross the globe to share their research and collaborate with their international peers.
In order to understand the future it is important to recognise the past, and at the Australian-American Fulbright Commission we are committed to celebrating the achievements of our nearly 5000 Alumni. Over the coming months, we will be looking back at some of the prominent Fulbrighters in our historical archives to highlight the contributions they have made to their academic fields, to society and to the Australian-American binational alliance.
To celebrate our new partnership with CSIRO, we'll be kicking off with 1952 Fulbright Scholar Dr Joan Tully, one of our very first Scholars from CSIRO.
Dr Joan Tully, (1907-1973)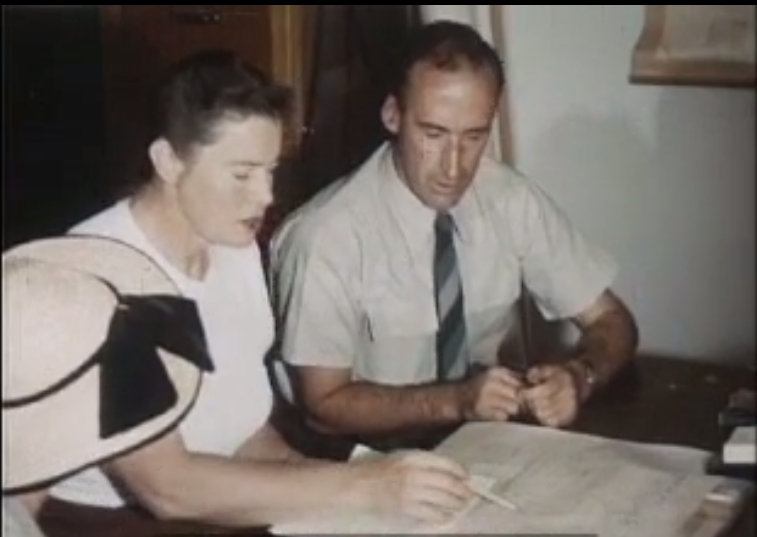 Dr Joan Tully during her time with the NSW Agricultural Service, archival footage courtesy CSIRO
Joan Tully, agricultural scientist, was born on 9 September 1907 at Mortlake, Surrey, England. Her family migrated to Western Australia in 1913 and settled on a farm at Donnybrook. Educated by her mother for several years, Joan attended Presbyterian Ladies' College, Perth, and the University of Western Australia (B.Sc., 1932). She went on to study horticulture at the East Malling Research Station, University of London (Ph.D., 1936). Back in Western Australia in 1936, she joined the Forests Department as a research officer. In 1938 she was appointed plant physiologist at the Council for Scientific and Industrial Research's irrigation research station, Griffith, New South Wales.
On 2 March 1944, Joan married Archie Scott Tully, a valuer and a widower with four children. She resigned from her post in February 1945 only to be widowed two months later. Responsible for the care and upbringing of her stepchildren, one of whom was handicapped, she returned to work for the C.S.I.R. in 1946. She was seconded to the Department of Agriculture's Murrumbidgee Irrigation Area agricultural service to provide on-farm advice. Her accounts of this work appeared in the Journal of the Australian Institute of Agricultural Science (1951) and the Australian Journal of Social Issues (1962). She also developed an interest in country women, their families, and their needs. Prompted by her experiences in the M.I.A., she turned her attention to the behavioural sciences, won her Fulbright Scholarship and studied extension education at Cornell University, Ithaca, New York, in 1952-53.
In 1956 Tully transferred to the Commonwealth Scientific and Industrial Research Organization's agricultural research liaison section, Melbourne. She was seconded to the department of psychology at the University of Melbourne in 1957 to work with Oscar Oeser and F. E. Emery on factors that affected farmers' decision-making. Moving to the university's faculty of agriculture in 1959, she completed a major research project on dairy-farmers in the Rochester district. In 1961 she took up a lectureship in the department of adult education, University of New England, Armidale, New South Wales.
Next year Tully was appointed senior lecturer in the department of agriculture, University of Queensland. She introduced the first postgraduate diploma course in agricultural extension in Australia, supervised research students and taught undergraduates. Her publications emphasized that the behavioural sciences were the cornerstones of extension teaching and crucial when working with client communities. Tully was promoted to reader in 1971 and elected a fellow of the Australian Institute of Agricultural Science in 1972. She formally retired that year, but continued to teach on a temporary basis.
An independent and determined woman, Tully succeeded in what was predominantly a masculine world. Having confronted sexist attitudes of male colleagues throughout her career, she was adamant that women should not expect privileges because of their gender, but should obtain professional recognition on their merits.
See the archival footage "Homes for the Inland", about innovative house designs for the rural Australian climate, Directed, Edited and featuring Dr Joan Tully.
Biographical information courtesy Bruce Crouch, 'Tully, Joan (1907–1973)', Australian Dictionary of Biography, National Centre of Biography, Australian National University, http://adb.anu.edu.au/biography/tully-joan-11891/text21297, published first in hardcopy 2002, accessed online 24 September 2015.
Copyright © 2021 – Fulbright