---
"Simon will work at the Kinsey Institute with leading experts in sexual health and reproduction research to continue development of the next-generation hydrogel condom, to battle the rising rates of STIs, HIV and unplanned pregnancy, globally."
---
Dr Simon Cook, 2019 Fulbright Future Scholar
Swinburne University of Technology to Indiana University | Sexual Health
Simon is an Early Career Research Fellow at Swinburne University of Technology. With a background in in microbiology and bacterial pathogenesis, Simon was awarded his PhD in 2014 from the University of Wollongong. Thereafter, Simon took a rather interesting career turn after a 'Grand Challenges' call from the Bill & Melinda Gates Foundation for a 'Next Generation Condom that significantly preserves or enhances pleasure, in order to improve uptake and regular use'. Simon is now lead investigator at Swinburne on 'Project Geldom' which aims to replace latex with better feeling novel tough hydrogel materials. Central to the development of this hydrogel condom is a user driven design process which has been established to understand the core barriers to regular condom usage and user preference.
Simon will work at the Kinsey Institute with leading experts in sexual health and reproduction research to continue development of the next-generation hydrogel condom. He will undertake user acceptance profiling in the US and generate data to support regulatory clearance to accelerate uptake and use of the hydrogel condom to battle the rising rates of STIs, HIV and unplanned pregnancy, globally.
Find out more about the 2019 cohort of Fulbright Scholars HERE.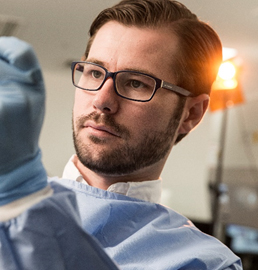 Copyright © 2021 – Fulbright