Profile: Professor Peter Coaldrake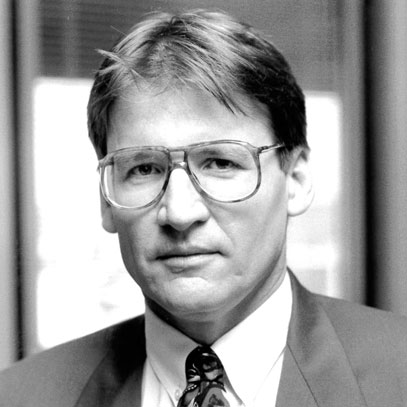 Professor Peter Coaldrake is something of a juggernaut in Australian academia.
His career highlights are many and varied – an appointment to the Order of Australia for distinguished service to higher education; recognition as a 'Queensland Great'; stints as Chair of Universities Australia, the Queensland Heritage Council, Screen Queensland and the Australian Technology Network of Universities; positions on various boards including as Chair of the OECD's higher education policy group (IMHE), the Australia Awards, and Graduate Careers Australia (to name just a few); not to mention his extensive publication record – suffice it to say, Peter knows a little bit about the higher education sector, and the higher education sector knows a little bit about Peter.
What many don't know is that Peter is a two-time Fulbright Scholar, having received a Postdoctoral Fellowship to George Washington University in the fields of politics/public policy in 1980, as well as a Senior Scholarship in the field of higher education policy and management at the University of Arizona in 2001. Fewer still know that he received his first Fulbright without spending a minute of his undergraduate study looking at public policy textbooks.
Peter traces his interest in politics back to an unlikely source; a childhood job working for pocket money at the local newsagent.
"I used to have to tear off the mastheads of all the unread Time and Newsweek magazines that were sent by Gordon and Gotch. I still remember the distributors.
"Aramac where I lived was a town of 400 people. No-one in Aramac read Time which, of course, in those days was the American edition, it was the edition. So I started reading about these things and, in fact, before that, because I remember knowing quite a lot about American politics by the time I was eight or nine."
"It didn't occur to me at either school or university that you would study history or politics for a living. I did some history in an arts degree at James Cook, but not much on American history or politics. But I did have this interest. Perhaps it was because I knew a lot about it, I didn't actually see a reason to study it formally."
"I didn't take my degree studies seriously until someone told me what honours was and I said, 'How do you get into that?' And at that point, in one nanosecond, became incredibly focused on making sure I got into honours."
Following a good result for his Honours in Geography, Peter found a position as a graduate trainee in the public sector with the brand new Department of Urban and Regional Development (DURD) in Canberra, working under Mal Logan, who went on to become Vice Chancellor at Monash University. Working with this dynamic figure, who both lectured in Geography and led Peter's team at DURD, inspired Peter to continue his studies.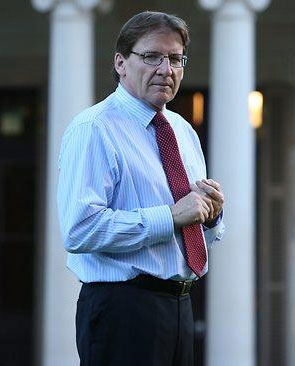 "I wanted to come back to Queensland to do a PhD, and I remember making contact with UQ Geography… I enquired about studying, but the people who I wished to contact were away, and there was a guy named Jim Ward at Griffith University who was an urban geographer, urban planner, he was recommended to me.
"So I went and I took a scholarship at Griffith, pursuing my PhD in an area which linked urban geography to public policy. So I actually have the unusual characteristic of having never studied a unit of public policy or political science, as such, but having secured a Fulbright postdoc in
that field.
"I guess, I was able to confirm my case for a Fulbright on the basis of my publication, not by formal study. So I was always very grateful for the Fulbright because it enabled me to make
that transition."
Peter's year at George Washington University taught him a great deal about the benefits of an education system that dynamically interacted with government, and vice versa.
"Working in a government field, the thing that was most impressive and that I really was influenced by in my life was the fact that most of the academics in the department worked on Capitol Hill or in what nowadays we call NGOs during the summer break, and they had attachments and appointments there.
"And the number of wonderful people who came into the university to speak, from Congress, and the staffers… That had a huge impact on how I viewed academic life, and in a field such as mine where you just knew how important it was to have practitioners influencing the learning experience."
He returned to Australia to lecture at Griffith, and his career started to take off through subsequent promotion to Senior Lecturer, and appointment as Dean of the School of Administration. Interestingly, it was while at Griffith that he first met and became colleagues and friends with Glyn Davis and Margaret Gardner, themselves these days both very prominent Vice-Chancellors. In 1987 Peter moved across town to become Head of the then QIT's School of Management, and then Acting Pro-Vice-Chancellor (Research). At the same time he published his first book, Working the System – a momentarily controversial exposé on corruption and political intrigue in Queensland. Of course, this was a time when the Fitzgerald Enquiry was looking at the health of the whole body politic in Queensland.
His incisive analy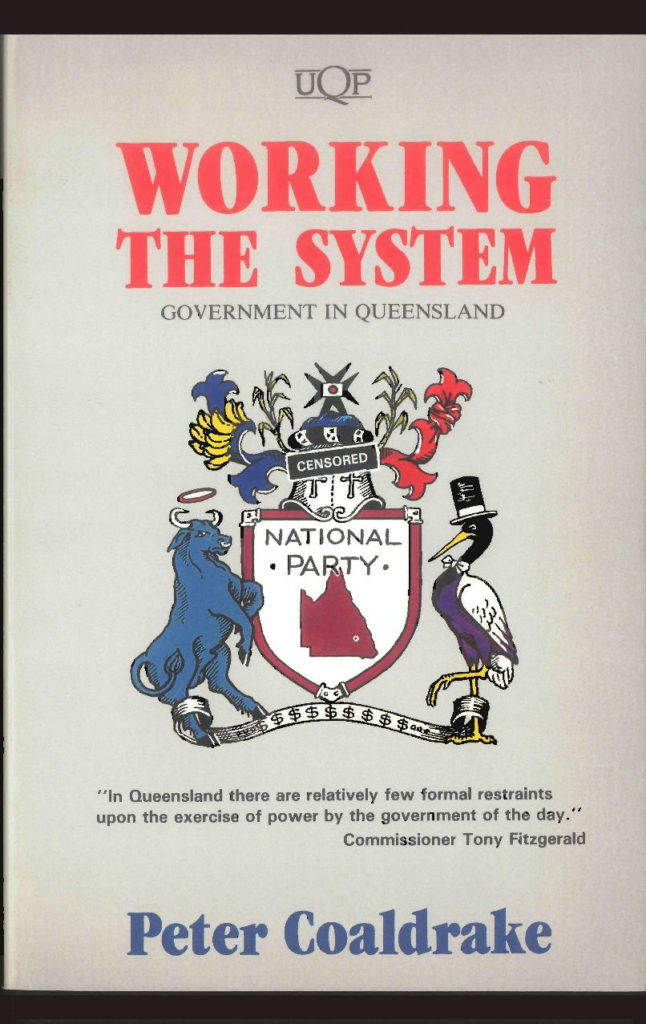 sis of the failing electoral system and erudite ideas on political reform caught the attention of some very high profile figures, including the new Queensland Premier, Wayne Goss who approached Peter to lead the reform of the state's public sector as Chair of the newly-formed Public Sector Management Commission.
With that, Peter made the deliberate decision to resign his QIT position and to chance his arm in government.
Although he was to return to the now QUT as Deputy Vice Chancellor more than four years later, he maintains that the stint as a CEO in government was probably the best possible preparation he could have had for his later role as a Vice-Chancellor. "People in universities often tend to look down their noses at government, but it was only in government that I came quickly to understand just how conservative and cloistered universities were.
"Government at that time was very exciting in Queensland, with a lot of community expectation attached to the reform agenda. I also had the opportunity to practise what I had studied and written about. We reviewed all of the agencies, we introduced modern management systems. Some people thought the agenda a radical one, and perhaps it was for Queensland. In truth we were simply catching up and adapting the sorts of changes that were sweeping through the public sector elsewhere."
In 2001 Peter applied for a second Fulbright, as a Senior Scholar at the University of Arizona, seeking to consolidate his knowledge of higher education policy before he tried his hand at new challenges.
"So much was going on at the time, and I really needed to clean my brain out if I was going to become a vice-chancellor and be fresh, so I applied for the Fulbright.
"I researched and wrote, looking at trends in the United States, both in the higher education system and a bit more broadly.
"I worked hard and, and I think I probably had a sense that I could do the job of being a university leader if the opportunity arose."
QUT thought so too, and Peter was made Vice Chancellor and CEO soon after returning, a position he has now held for nearly fifteen years. As the longest-serving incumbent VC in Australia, Peter has led the University through a period of profound change. This is reflected in its performance and rising ambitions and the physical transformation of its campuses. It is also evident in QUT's meteoric rise in the Times Higher Education, Shanghai and other rankings. But, he cautions that:
"Rankings do not tell anything like a complete story; they are primarily based on research. We have wanted to build on our research so we are happy to be assessed on it, but I am just as proud of the progress we have made on learning and teaching.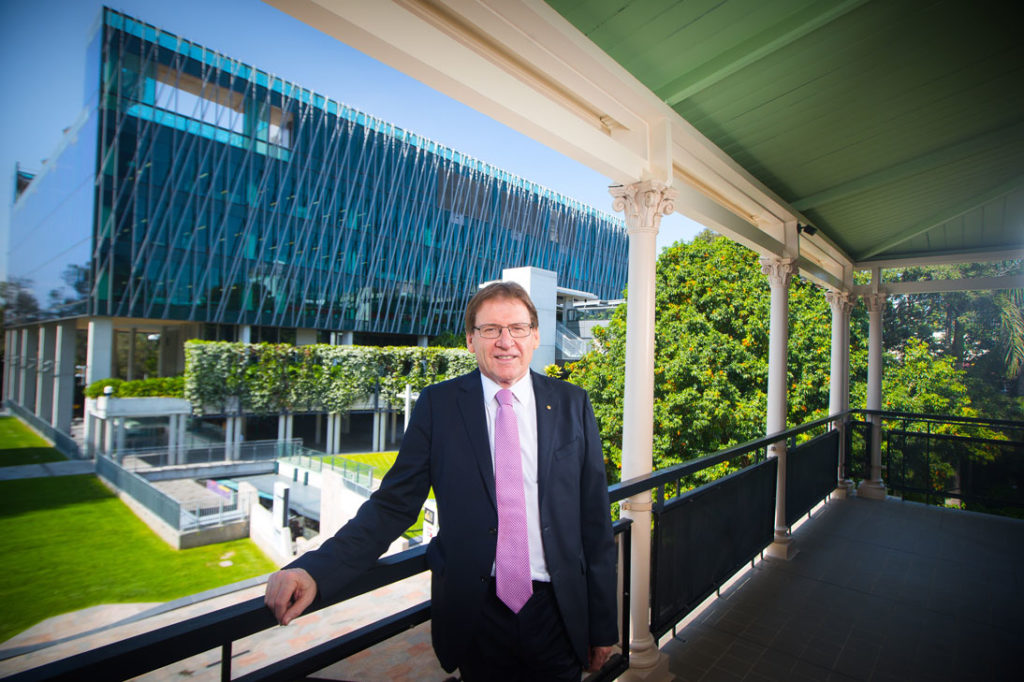 "Perhaps what has also earmarked QUT is the way in which it has positioned its pursuit of excellence alongside its quest for social justice. QUT established the first, and still by far the most significant, scholarship endowment fund for students from disadvantaged backgrounds.
"Through our Learning Potential Fund, which now has a corpus north of $50 million, we distribute about 2500 scholarships and bursaries a year. Perhaps the thing that we are most proud of, is that 700 QUT staff make a contribution to the fund out of their pay every fortnight – that is more than 20%."
While focussed on improving the culture and learning experience at QUT, Peter has continued to contribute to the wider discussion on university governance and management, and higher education policy more broadly. He has strong thoughts on the challenges facing the education sector, and the blunt realism of his views provides a refreshing take on an industry more commonly associated with lofty, high-minded rhetoric.
In an August 2017 paper, Peter puts forward an unapologetic account of the steps that educational institutions must take to adapt to the realities of an increasingly dislocated society, and restore confidence to those who support them.
"[Cease] simply relying on more overseas students to fill funding gaps. Some universities have drunk deeply the Kool-Aid of international income, and in some places between 50 per cent and 65 per cent of undergraduates in Business and Commerce programs are from overseas, predominantly from China. This involves real risks of budget over-reliance, compromise of course quality and campus experience, and wider threats to institutional and national risk."
The impact of Peter's time at George Washington University and the University of Arizona reflects in his writing, as he still strongly advocates for increased engagement between the public and university sectors.
"There are many factors that have worked against achieving an integrated approach to tertiary education in Australia, but we can only solve this problem with attentive government coordination and shared vision about the role of tertiary education in a transforming economy.
"For its part, government needs to steer a path between deregulation and heavy handed interventions such as metric-based performance incentives that are supposed to entice universities in directions preferred by the government of the day."
Peter's Fulbright connection has remained strong, too, as he has served on numerous selection committees over the years, including the peak National Selection Committee, which selects or provides final endorsement for all Fulbright Postgraduate, Postdoctoral, Senior and Professional awards. He even served on the Fulbright Board of Directors for a number of years, chairing it from 2005-2007. True to form, Peter's tenure as Chair was marked by a strong push for increased funding.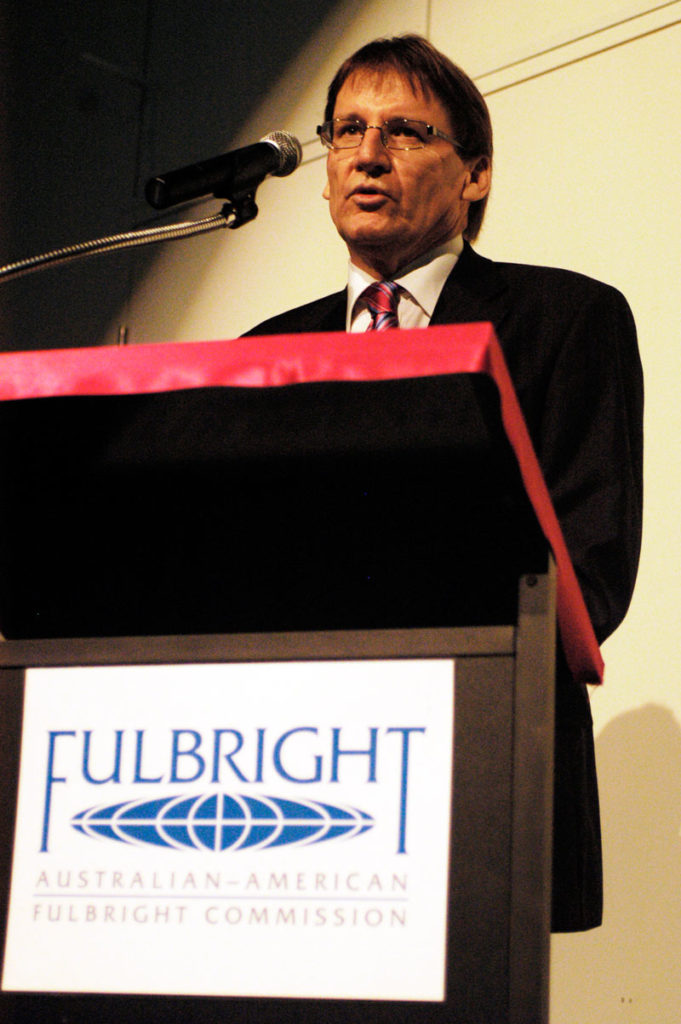 "I was a very activist Chair, and gave the whole issue of raising money a high priority.
"I think my main contribution was, with some very decent help from Board colleagues, to lead the process of convincing most state governments to put money on the table. In Queensland, for example, we said to the state government, "If you contribute $250,000, the universities will match it. They did."
This initiative was one of those leading to the establishment of the Fulbright State Scholarship endowments, which to this day have enabled scholars and students from each state in Australia to travel to the U.S. for study or research that contributes to their fields locally.
Peter decided that this year would be his last at QUT, announcing his retirement in early 2017. His general approach is to make decisions about 2018 when 2018 comes, though he has just been appointed as Chair of the Queensland Performing Arts Trust Board.
He also plans to keep writing, following up on the success of the revised edition of his latest book, Raising the Stakes – an overview of Australian higher education in a global context.
"I'll write another book next year, but writing books is just something you do in your spare time, it's not gainful employment (laughs)."
The stakes for Australian tertiary education have never been higher, and the sector will doubtless be seeing more of Peter in the near future.