Fulbright alumni are the soul of TEDxFulbright in Australia, involved as speakers, organisers or volunteers. Through TEDxFulbright events,  Fulbrighters showcase the Fulbright Program's thought leadership, by communicating their meaningful but often complex research and expertise in lay terms and using the engaging TEDx format.

TEDxFulbrightCanberra had as theme "Power & Wisdom," inspired in these words of Senator J William Fulbright: "Science has radically changed the conditions of human life on earth. It has expanded our knowledge and our power, but not our capacity to use them with wisdom.".
TEDxFulbrightCanberra was possible thanks to funding from the U.S. Embassy Public Affairs Section, the support of individual and institutional partners, and the enthusiastic participation of a group of Fulbright Scholars and Alumni who volunteered for this event.
DATE AND TIME: Thu. 24 May 2018, 5:30 pm – 7:30 pm AEST
LOCATION: Questacon, King Edward Terrace, Parkes, ACT 2600
To view the photo album for this event click here!
Our Speakers: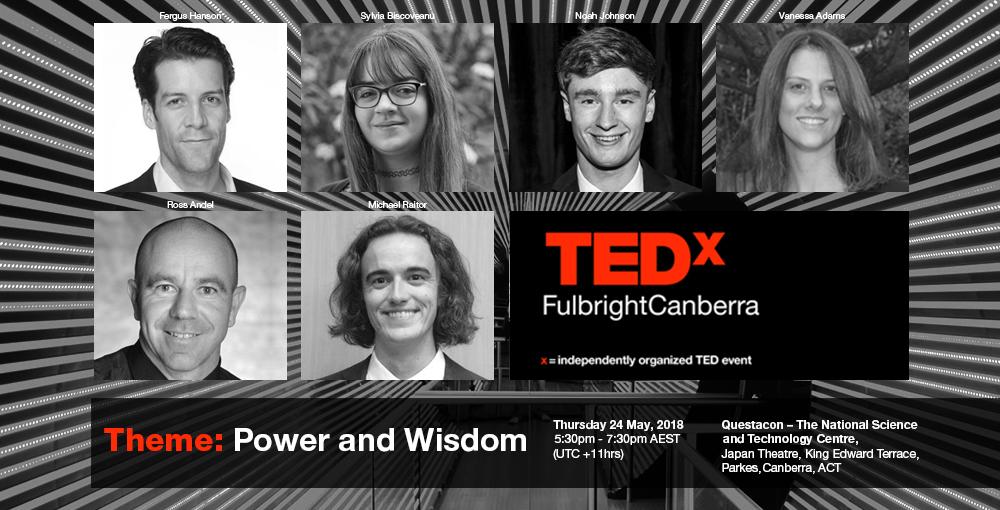 For videos of the event, click 'Read More' below:
TEDxFulbrightSydney
Thanks to partners Newcast Studios for the promo video.
In the words of Senator J William Fulbright, "[…] The [Fulbright] Program aims…to bring a little more knowledge, a little more reason, and a little more compassion into world affairs and thereby to increase the chance that nations will learn at last to live in peace and friendship." TEDxFulbrightSydney will take place on Thursday 19 October at the Messel Lecture Theatre, Sydney Nanoscience Hub, University of Sydney.
Meet our amazing line-up of Speakers!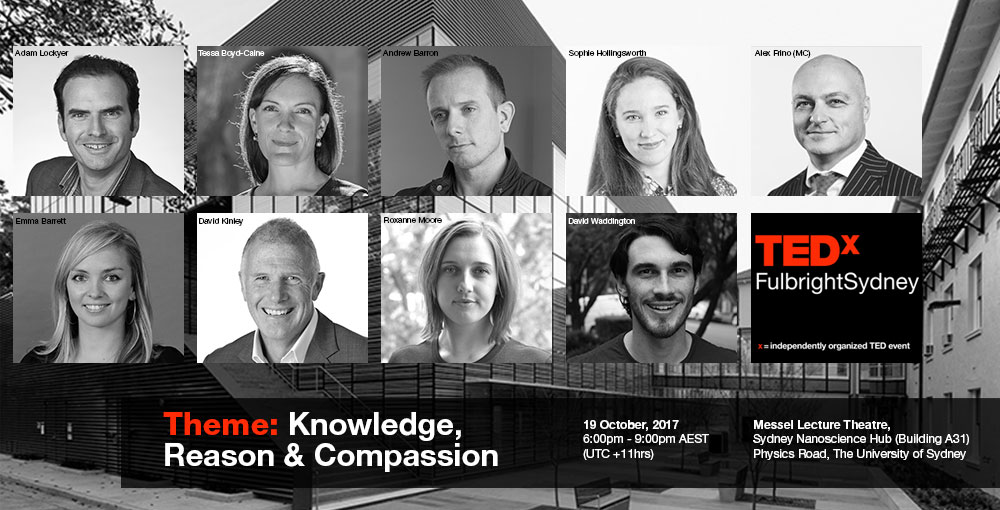 To view the photo album of this event click here.
For videos of the event, click 'Read More' below:
TEDxFulbrightCanberra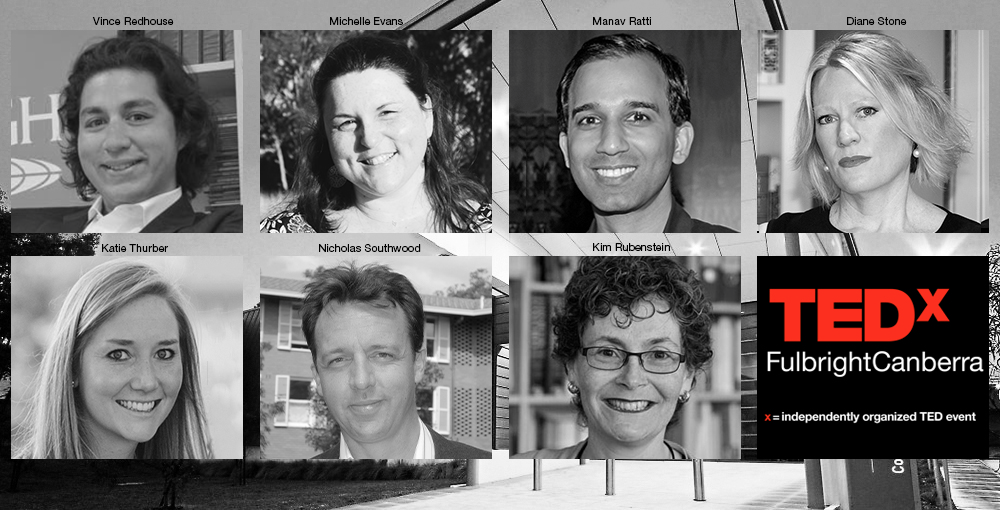 In the words of Senator J William Fulbright, "The essence of intercultural education is the acquisition of empathy–the ability to see the world as others see it, and to allow for the possibility that others may see something we have failed to see, or may see it more accurately. The simple purpose of the exchange program…is to erode the culturally rooted mistrust that sets nations against one another."
Fulbright alumni often describe their scholarship period as a deeply transformative experience, during which they adopt a different frame of mind to empathise and interact with their hosts overseas. Our speakers, all Fulbright awardees from diverse fields, will address the theme "Empathy & Transformation". TEDxFulbrightCanberra will thus showcase Fulbrighters as thought leaders.
Reflecting the Fulbright exchange program, TEDxFulbright seeks to facilitate an experience that embodies the continued power of progress through international, cross-cultural, and interdisciplinary connection and community action. TEDxFulbright events have been held since 2012 in several cities including Cambridge (MA), Frankfurt am Main, Dublin, Washington (DC), Santa Monica (CA) and Melbourne.
To access the photo gallery of this event click here.
For videos of the event, click 'Read More' below:
TEDxFulbrightMelbourne
The theme "A Certain Optimism: Changing the Nature of the Game" draws directly from Senator Fulbright, a gifted statesman & the longest serving chairman of the Senate Foreign Relations Committee. He had profound influence on America's foreign policy, and his vision for mutual understanding shaped the extraordinary exchange program bearing his name. TEDxFulbrightMelbourne took place on 27 April 2017 at the Victoria Comprehensive Cancer Centre.
For videos of the event, click below: