1949-1964: Highlights from the first fifteen years
A bi-national commission, named the United States Educational Foundation (USEF), was created under the terms of the 1949 Agreement, to administer the Fulbright scheme from Canberra. There was much work to do to establish the Program, and this fell initially to public servants in Australia's Commonwealth Department of External Affairs. Their first task was to appoint the founding bi-national Board of directors, whom they named publicly in February 1950.
The Honorary Chairman of the Board was the U.S. Ambassador, Pete Jarman. The directors included three Australians – the new Minister for External Affairs, Mr (later Sir) Percy Spender, Sir Charles Lowe, Chancellor of the University Melbourne University and a Justice of the Victorian Supreme Court, and Professor G. A. Currie, agricultural scientist and Vice-Chancellor of the University of Western Australia.
The American directors were U.S. Embassy officers Paul J. Sturm (who would later become U.S. Consul in Hanoi, Vietnam, 1952-54) and Doyle V. Martin, and W.R. Hauslaib, an American businessman who had been resident in Australia since the 1930s. Hauslaib managed a company that imported Packard cars to Australia, and, according to one Australian public servant, he owned 'one of the best collections of ties I've eve seen!'
One of the Board's first tasks was to appoint an Executive Officer to administer the program. The man they appointed was a Western Australian Rhodes scholar, historian and decorated air force veteran, Geoffrey Rossiter. For an account of Rossiter's influence see this Fulbrighter newsletter article.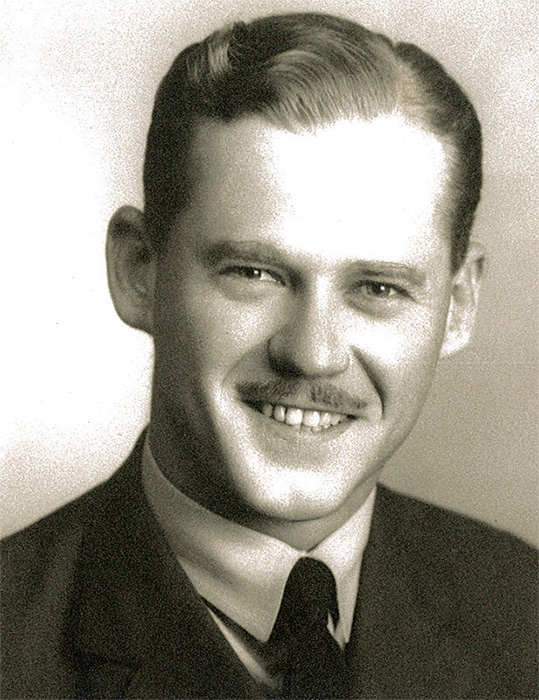 Rossiter and his small staff learnt to manage a complex bi-national program from what was then a very isolated Canberra office, housed initially in one room in the American embassy, then in an office at the ANU, and finally in a residential house on Northbourne Avenue bought especially.
Aside from trialling and managing selection procedures for Australian scholars, liaising with many different institutions and agencies in both countries, welcoming and orienting visiting Americans, and wrestling with two different academic calendars, Rossiter also had to sell the potential benefits of an American educational experience to the Australian higher education community, where suspicion of American cultural influence was high, and the American educational philosophy and achievement openly questioned. Rossiter's early reports to the Board provide an intriguing insight into the challenges he faced.
The first Australian scholars, 27 of them, including two women, from seventeen research fields noticeably weighted towards the sciences, headed across the Pacific in 1950. The first Americans (23 men and, again, two women) came to Australia in 1951, converging on Melbourne and Sydney, with a smattering heading to other states, one to the brand new Australian National University, and another to CSIRO. The first Americans included many more in the Humanities and Social Sciences.
The first scholars gained a good deal of publicity in Australian newspapers. A search under 'Fulbright scholar' throws up a wonderful array of stories. Many early scholars have also been interviewed, both by the Fulbright historian Alice Garner, and by other historians. Many of these interviews can be found in the National Library of Australia's Oral History collection, and some are available online. One of the first Australian women to travel to the U.S. under the scheme was plant biochemist Adele Millerd. Her fascinating interview is available online here.
Visiting American scholars, who first came in the first years of the Program discovered a very different (and much smaller) university world from the one they had left. Their observations of Australian university life in the few reports that remain from that time are a wonderful glimpse into another era. Geologist Kenneth Brill, for example, who came to Tasmania in 1953, reported that his host institution 'consists chiefly of a number of slab huts in a paddock'. He found great satisfaction, though, in 'beating the bush for outcrops that were rumoured to be present, mapping areas where no geological work had been done'.
American women professors who came in the first decade of the Program played an important role in modelling professional possibilities for Australian women who aspired to something more than marriage and motherhood. Professor Mary Murphy, for example, was the first ever Fulbrighter in the field of Accounting (worldwide, we believe). Her Australian visit provoked much interest, not only due to her high position in a male-dominated profession, but because of her public speeches arguing for equal opportunities for women and men. Another influential woman to visit early on was Harriet Creighton, Professor of Botany at Wellesley College and the first woman to be appointed secretary of the Botanical Society of America. She came to study Western Australian wildflowers.
Some other Senior Scholars who made a strong impression include Theodore Schellenberg, from the US National Archives, who played a crucial role in the early development of the Australian national archives in 1954, and Professor John Hope Franklin, a historian of slavery and the first African-American scholar to arrive under the program. Franklin was also the first 'Distinguished Visitor' invited to Australia under the Program, and was surprised to find himself was a national household name during his 1960 tour. His visit coincided with civil rights battles in the U.S. and with the intense African decolonisation period; Franklin made interesting observations about the challenges of being an intellectual 'ambassador' at this time.
The initial $US 5 million allocated under the 1949 Agreement lasted fifteen years—five more than expected—during which time roughly 1500 scholars (of both nationalites) participated in the Program. When the funds began to run out, the Foundation appealed to the Australian government to keep the Fulbright scheme afloat.
Copyright © 2021 – Fulbright