Fulbright alumni are the soul of TEDxFulbright in Australia, involved as speakers, organisers or volunteers. Through TEDxFulbright events Fulbrighters showcase the Fulbright Program's thought leadership, by communicating their meaningful but often complex research and expertise in lay terms and using the engaging TEDx format.
TEDxFulbrightSydney
Thanks to partners Newcast Studios for the promo video.
In the words of Senator J William Fulbright, "[…] The [Fulbright] Program aims…to bring a little more knowledge, a little more reason, and a little more compassion into world affairs and thereby to increase the chance that nations will learn at last to live in peace and friendship." TEDxFulbrightSydney will take place on Thursday 19 October at the Messel Lecture Theatre, Sydney Nanoscience Hub, University of Sydney.
Meet our amazing line-up of Speakers!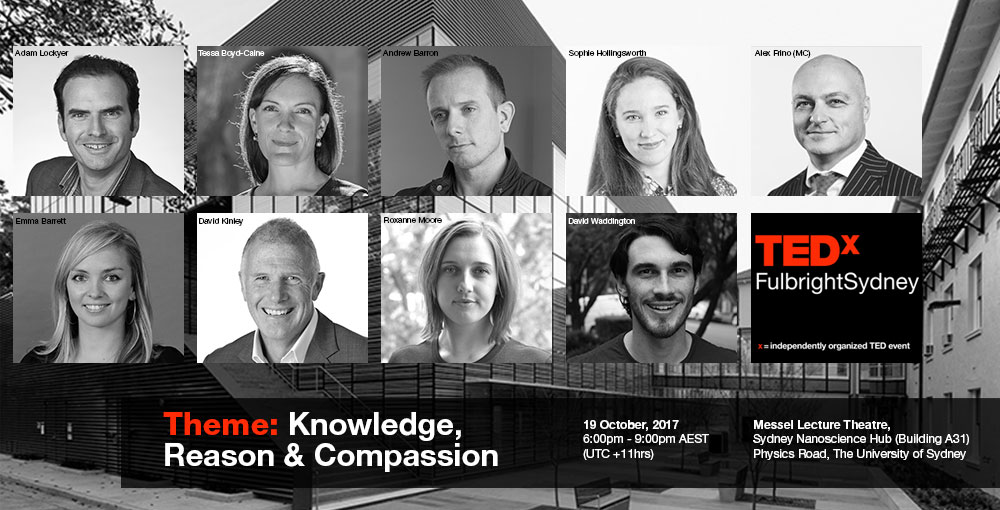 To view the photo album of this event click here.
For videos of the event, click 'Read More' below:
Why I'm Building a Model of the Bee Brain | Andrew Barron | 2001 Fulbright Postdoctoral Scholar to the University of Illinois
Understanding how the human brain works will be the greatest scientific achievement of the 21st Century, and probably it's greatest scientific challenge. Why then have I decided to build a model of the bee brain? In this talk I will explain why something as complex as a brain can only be understood by modelling. I'll describe how models of the brain are made, and why I believe understanding the bee brain will bring us a lot closer to understanding the human brain.
Andrew is a researcher in comparative neuroscience at Macquarie University. He studied for both his undergraduate and Doctoral degree at Cambridge University UK, and in 2001 received a Fulbright Scholarship to travel to the US to study honey bee honey neurobiology at the University of Illinois. There he developed a fascination with the insect brain that has shaped much of his career. In 2015 he was awarded an Australian Research Council Future Fellowship to develop a model of the honey bee brain.
Addressing the Hidden Epidemic of Child and Adolescent Trauma | Emma Barrett | 2015 Fulbright Postdoctoral Scholar to the Medical University of South Carolina
Evidence from around the world reveals alarmingly high rates of terrifying and life-threatening traumatic events experienced by children and adolescents. Rigorous scientific investigations have identified effective therapies for the co-occurring mental health and drug and alcohol use disorders that result from early trauma exposure. We now must work together to reduce stigma and build compassion for this vulnerable group so that we can help to break the cycle of trauma, mental illness and drug and alcohol abuse for millions worldwide.
Emma is a NSW Health Research Fellow and Forensic Psychologist at the National Drug and Alcohol Research Centre (NDARC), University of NSW. She holds undergraduate and postgraduate qualifications in Psychology and completed her PhD at NDARC in 2012. She leads a multidisciplinary program of research that addresses mental health and substance use disorders among individuals exposed to trauma. In recognition of the quality of her research, Emma has received a number of academic awards, including the 2015 UNSW Dean's Rising Star Award and the 2017 Young Tall Poppy Science Award from the Australian Institute of Policy and Science.
How Much Do Banks Owe Us? | David Kinley | 2003 Senior Scholar to the American University
We've lost our trust in banks. No longer boringly prudent and safe, banks and bankers are increasingly seen as greedy, mollycoddled and self-serving. I want to show how banks can regain our trust and their own legitimacy.  A fair as well as a prosperous financial system benefits not just the standing of banks; more importantly it boosts the wealth of our economies, the health of our societies and the well-being of each one of us. But if we are to reinvest our faith in banks, they must earn it by delivering on their promise. That much they owe us.
David is a Professor holding the Chair in Human Rights Law at University of Sydney and is an Expert Member of Doughty Street Chambers in London. He specialises in the area of the global economy and human rights and has worked for more than 25 years all over the world with governments, international organisations, law firms, corporations and NGOs in the field. He is the author of a dozen books including Civilising Globalisation and, most recently, Necessary Evil: how to fix finance by saving human rights.
Free to Be Kids – We Need to Overhaul the Youth Injustice System | Roxanne Moore | 2013 Fulbright Western Australian Postgraduate Scholar to New York University
This past year we have heard horrifying stories of children being abused in our youth justice system right across Australia. From restraint chairs, to hoods and gassing, broken bones, dogs, solitary confinement, forced strip searches… This happens to kids as young as 10. This harsh approach to justice does not work. Indigenous children are 25 times more likely to be locked up – it is time to listen to Indigenous communities about the way forward. We need national leadership to work with communities to address systemic discrimination and support Indigenous-led programs, so that Indigenous children stop getting caught in the quicksand of the justice system. Let's work together for a brighter future for the next generation of Aboriginal and Torres Strait Islander children.
Roxanne is a Noongar woman and human rights lawyer from Margaret River in Western Australia. She is an Indigenous Rights Campaigner with Amnesty International, focussing on youth justice. Roxanne previously worked for the Aboriginal and Torres Strait Islander Social Justice Commissioner at the Australian Human Rights Commission and the Hon Chief Justice Wayne Martin AC QC; as a commercial litigator; and has international experience with UNHCR Jordan and New York University's Global Justice Clinic. Roxanne studied law at the University of WA, and completed an LLM (International Legal Studies) at New York University.
All the King's Horses and All the King's Men | Adam Lockyer | 2015 Professional Scholar to Georgetown University
How can international forces best help to rebuild local security forces? From South Vietnam, Iraq and Afghanistan, international forces have struggled to rebuild an effective and dependable local armed force to handover to. In this talk, Fulbright alumnus Adam Lockyer, Senior Lecturer in Security Studies, Macquarie University, explores this topic. Dr. Lockyer shows that the problem hasn't been in recruiting, equipping or training local forces – it has been in retaining the force. Desertion has been the biggest challenge. Dr. Lockyer submits a new way of thinking about organising foreign militaries in order to leverage pre-existing loyalties and glue the army together.
Adam is a Senior Lecturer in Security Studies at Macquarie University. He held the 2015 Fulbright Scholarship in US-Australian Alliance Studies at Georgetown University. Before joining the Department of Security Studies and Criminology, Dr. Lockyer was a Research Fellow in Defence Studies at the University of New South Wales. He has also held positions at the United States Studies Centre at the University of Sydney, at the Center for Strategic and International Studies, in Washington, DC, and was also awarded the Lowy Institute's 2008 Thawley Scholarship in International Security. He also spent four years serving in the Australian Army.
What Businesses Can Learn from Nonprofits |Tessa Boyd-Caine | 2013 Fulbright Professional Scholar in NFP Leadership to Foundation Centre, New York
People generally assume the power of philanthropy lies in giving, whether from individuals, workplaces or companies. Efforts to make philanthropy more strategic have aligned that giving with business or other goals of the givers; or fostered non-financial assets like skilled volunteering. But social change isn't a one-way street. The people and communities that receive philanthropic support have a lot to share; and philanthropists have a lot to learn from them. We can achieve far greater impact if we move philanthropy from an act of giving to one of partnership and the sharing of different knowledge, resources and experience.
Tessa is the founding CEO of Health Justice Australia, established in 2016 as the national centre for health justice partnerships. She has worked in health, criminal justice and human rights organisations in Australia and internationally. She was previously Deputy CEO of the Australian Council of Social Service. Her work as the inaugural recipient of the Fulbright Professional Scholarship in Nonprofit Leadership was published as 'Lead or be left behind: Sustaining trust and confidence in Australia's charities'. She is on the Board of Gondwana Choirs, the leader in Australian choral performance.
Innovation isn't Enough. We Need to Keep Inventing. | David Waddington | 2013 Fulbright Postgraduate Scholar to Harvard University
Centuries of scientific discovery have led to a quality of life that we now take for granted. Drawing on my work in nanotechnology and quantum physics, I will explain how abstract concepts from the 1950s are enabling the next generation of healthcare. This talk will show the value in creating knowledge for the sake of curiosity in a time when scientific discoveries are increasingly judged on their market value.
David is a PhD candidate at the University of Sydney currently working at the Australian Institute for Nanoscale Science and Technology (AINST). His research aims to develop a new modality for tracking therapeutic drug delivery via magnetic resonance imaging (MRI) of nontoxic nanoparticles, such as nanodiamond and nanoruby. Awarded a 2013-14 Fulbright scholarship, he has worked on nanoparticle tracking with leading biomedical imaging groups at Harvard University and the Massachusetts General Hospital. Completing his doctoral studies this year, David will continue to pursue opportunities at the intersection of nanophysics and biomedicine.
Exploration: In Conflict with Modernity? | Sophie Hollingsworth | 2016 Fulbright Anne Wexler Scholar to the University of Sydney
With the tallest peaks climbed and the depths of the ocean reached, what is left to explore? Exploration is no longer about planting your nation's flag in an uncharted territory or being the first to summit the world's tallest mountains. Today, exploration is about increasing our knowledge and understanding of the world we live in. We all face the same challenges: food, water, and shelter. Yet given the common challenges, the range of cultural adaptation is extraordinary. Based on adventures and misadventures in remote regions of the Earth, Sophie celebrates the diversity of the world's most remote cultures.
Sophie is a former ballerina turned award winning explorer. Sophie is the 2017 New Explorer of the Year and currently pursuing a Master of Health Security. As the Founder of AquaAid International, Sophie works with Central America and Sub-Saharan Africa's most remote communities establishing sustainable sources of clean water and basic sanitation. Her passion for exploration and discovering indigenous ways of life has led her undertake descents of uncharted rivers in Madagascar, desert transects in Namibia, and ethnographic research in Vanuatu. Sophie's work has been showcased by National Geographic and the United Nations.
Master of Ceremonies – Alex Frino | 2005 Fulbright Senior Scholar to Georgetown University
Alex is Deputy-Vice Chancellor (Global Strategy) and Professor of Economics at the University of Wollongong. He is one of the best published finance academics in the world with over 100 papers in leading scholarly journals, and has won over $10 million in national competitive research funding. He was previously CEO of the Capital Markets Cooperative Research Centre Limited – a $100 million research installation funded by the Australian Federal Government partnering with 20 major global financial corporations. He has held visiting positions at many major financial organisations and at leading international universities and is frequently cited in global financial press.
Licensee and Lead Co-Organiser – Nyrie Plamer | 2002 Fulbright Postgraduate Scholar to Princeton University
Nyrie has been the Secretary of the NSW Chapter of the Australian Fulbright Alumni Association for twelve years. As a Fulbright Scholar at Princeton she studied Public Policy and International Affairs, majoring in Energy Policy. Her Fulbright year has been pivotal in her career as an advisor to State Ministers and a consultant to Government and the energy sector. Nyrie is currently a Manager, Policy, Economics and Strategy at PPB Advisory.
Reflecting the Fulbright exchange program, TEDxFulbright seeks to facilitate an experience that embodies the continued power of progress through international, cross-cultural, and interdisciplinary connection and community action. TEDxFulbright events have been held since 2012 in several cities including Cambridge (MA), Frankfurt am Main, Dublin, Washington (DC), Santa Monica (CA), Melbourne, Canberra and Bogotá.
Our Partners:
                
TEDxFulbrightCanberra

In the words of Senator J William Fulbright, "The essence of intercultural education is the acquisition of empathy–the ability to see the world as others see it, and to allow for the possibility that others may see something we have failed to see, or may see it more accurately. The simple purpose of the exchange program…is to erode the culturally rooted mistrust that sets nations against one another."
Fulbright alumni often describe their scholarship period as a deeply transformative experience, during which they adopt a different frame of mind to empathise and interact with their hosts overseas. Our speakers, all Fulbright awardees from diverse fields, will address the theme "Empathy & Transformation". TEDxFulbrightCanberra will thus showcase Fulbrighters as thought leaders.
Reflecting the Fulbright exchange program, TEDxFulbright seeks to facilitate an experience that embodies the continued power of progress through international, cross-cultural, and interdisciplinary connection and community action. TEDxFulbright events have been held since 2012 in several cities including Cambridge (MA), Frankfurt am Main, Dublin, Washington (DC), Santa Monica (CA) and Melbourne.
To access the photo gallery of this event click here.
For videos of the event, click 'Read More' below:
Power of our Identities in leadership – Michelle Evans (2013 Fulbright Postdoctoral Scholar to the University of Hawaii – Manoa)
Conventional understandings of leadership limit how we both perceive leadership and enact it. These ideas get in the way and restrict the idea of leadership to organisational and hierarchical contexts. What if we thought about leadership as a moment that arises in situations and contexts? What if who we are and how we speak and act with others are the resources we have to draw upon for leadership? In this talk Michelle positions the experiences and voices of Indigenous Australians within a frame of leadership. She explores how having 'outsider' experiences and challenging 'insider' expectations can help uncover barriers to finding your authority to lead.
Dr Michelle Evans holds an Associate Professorship in Leadership at Charles Sturt University where she is project lead of the Indigenous entrepreneurship Pop Up innovation hub WALAN MAYINYGU. Michelle is also co-Founder/Program Director for Australia's Indigenous Business Master Class program, MURRA, based at Melbourne Business School, through which she has personally taught and mentored one hundred and thirteen Australian Indigenous business people. Michelle has a unique combination of professional experience in management, community engagement and facilitation coupled with her excellent track record in research, having attracted three highly competitive Australian Research Council grants over the past four years.
"That's just not feasible!" – Nicholas Southwood (2003 Fulbright Postgraduate Scholar to Princeton University)
We constantly reject ideas, no matter how desirable, for being "just not feasible. "A universal currency is just not feasible." "Shark nets on all suburban beaches is just not feasible." And so on. The "just not feasible" device is a powerful and valuable tool. But it is also a tool that is especially liable to being misused. There are serious and under-appreciated dangers associated with the way we form and deploy feasibility judgements. We often go wrong when we judge that certain ideas are not feasible. And even when we are right, we are often wrong to reject those ideas.
Nicholas Southwood is an Associate Professor and ARC Future Fellow in the School of Philosophy at the Research School of Social Sciences, Australian National University. He is also Director of the Centre for Moral, Social and Political Theory and Co-Editor of The Journal of Political Philosophy. He is author of two monographs, Contractualism and the Foundations of Morality (OUP, 2010) and Explaining Norms (OUP, 2013) and many articles in journals including Ethics, Mind, Noûs, Philosophical Studies and Philosophy & Public Affairs. His current research investigates the nature and proper role of feasibility in politics.
The vulnerability of dual citizenship in Australia – Kim Rubenstein (1991 Fulbright Postgraduate Scholar to Harvard University; 2002 Fulbright Senior Scholar to Georgetown University)
One would think that holding more than one citizenship is a positive position to be in.  And for the most part it is! In this talk Kim examines citizenship in a globalized world and explains why she thinks Australia should be affirming the multiple connections individuals have both in Australia and beyond in order to enhance social cohesion.  She then discusses her concerns about the trends towards an inequality of citizenship that dual citizens in Australia now experience, through changes to the Australian Citizenship Act in 2015.
Kim Rubenstein is a Professor in the ANU College of Law at the Australian National University. She is Australia's leading citizenship law expert, with the second edition of her book Australian Citizenship Law recently published.  She was appointed a consultant to the Commonwealth in its redrafting of Australian citizenship legislation, resulting in the 2007 Act and later was a member of the Independent Expert Committee set up to review the Australian Citizenship Test that reported in 2008. In 2012 she was named in the first batch of Westpac '100 Women of Influence' Australian Financial Review awards for her work in public policy.
Celebrating progress in Aboriginal and Torres Strait Islander health and wellbeing – Katherine Thurber (2011 Fulbright Anne Wexler Scholar to the Australian National University)
Aboriginal and Torres Strait Islander cultures are the world's oldest living cultures. There is increasing evidence that connection to culture is associated with positive outcomes for families and communities. However, these strengths are not what we hear about in the media and other reporting on Aboriginal and Torres Strait Islander wellbeing — what we hear tends to be focused on gaps, deficits, and shortfalls relative to the non-Indigenous population. This presentation will highlight some issues with this deficit discourse, and suggest an alternative, strengths-based approach: measuring progress within the Aboriginal and Torres Strait Islander population, and celebrating the success achieved.
Katherine (Katie) Thurber is a Postdoctoral Fellow with the Aboriginal and Torres Strait Islander Health Program at the National Centre for Epidemiology and Population Health (NCEPH), Australian National University. From 2011-2013, she undertook a Masters in Epidemiology at NCEPH on the Fulbright-Anne Wexler Scholarship in Public Policy, and she continued this research by undertaking a PhD in Epidemiology from 2013-2016. The aim of her research is to improve Aboriginal and Torres Strait Islander health and wellbeing, through building on strengths of families and communities.
A fair go for self-determination – Vincent Redhouse (2015 Fulbright Anne Wexler Scholar to the Australian National University)
Using evidence from US Federal Indian Policy, specifically its self-determination policies, the case will be made that the most efficient strategy for Closing the Gap would be to grant Indigenous Australians a much more substantial role in determining, shaping, and implementing the policies that directly affect them. In the US, it took nearly twenty years for self-determination policies to start producing positive outcomes for Indigenous Americans. In Australia, those types of outcomes will likely take much longer. Australian citizens will need to remain patient and supportive of self-determination policies if they are to work.
Vince Redhouse is a Navajo man, and was the 2015 Fulbright U.S. Anne Wexler Scholar. He graduated Summa Cum Laude with Honors in Philosophy, Politics, Economics, & Law from the University of Arizona in 2015. While at the University of Arizona, Vince earned many distinguished awards, including Outstanding Native American Student of the Year. He was also named an Honors College Pillar of Excellence and was a university medalist.  For his Fulbright tenure, Vince is pursuing a Master of Philosophy degree at the Australian National University. His thesis is on political reconciliation between indigenous peoples and settler colonial states.
Academic freedom and its defenders – Diane Stone (1991 Fulbright Postgraduate Scholar to Georgetown University)
Science and scholarship thrives on free exchange among academics. The Fulbright program is predicated upon "learning and empathy between nations through educational exchange". Yet international exchange can also have perverse consequences in an era of populism, resurgent nationalism and economic austerity. A battle is occurring between the European Union and Hungarian Government over the government's back-sliding from the EU's core values of democracy, rule of law and freedom of speech. This battle was triggered by the legislative attack on foreign universities. When academic freedom is undefended, no higher education institution can be fully protected from the wave of nationalist authoritarian politics that is sweeping the world.
Diane Stone is a Centenary Professor in the Institute of Governance and Policy Analysis at the University of Canberra. She is also a Professor at Warwick University and Vice President of the International Public Policy Association. From 2004 to 2008, she was a European Commission Marie Curie Chair and founding Professor of Public Policy at Central European University (CEU) in Budapest. She has been a Board member of the Think Tank Fund, Network of the Open Society Foundation and was on the Governing Body of an international organisation – the Global Development Network. She worked at the World Bank in 1999.   
Ten ways to become a better person – Manav Ratti (2009 Fulbright Scholar to New York University; 2016 Fulbright Canada-Royal Bank of Canada Awardee to Salisbury University)
Today's world is increasingly interconnected and diverse. Navigating the challenges of daily life, both personal and professional, requires the right kind of mindset and actions so that we can create homes, workplaces, communities, and a world filled with peace, understanding, and opportunity for all. This talk will present ten insights by which we can increase our personal power and enhance our ability to understand and accept others, thus enabling the best in ourselves, in others, and in our communities.
Manav Ratti is Associate Professor of English at Salisbury University in the University of Maryland system, U.S.A. Educated at Oxford University (D.Phil., M.St.), Cambridge University (M.Phil.), and the University of Toronto (B.A. Hons), he has twice won awards from Fulbright Canada. He is the author of the critically acclaimed book The Postsecular Imagination: Postcolonialism, Religion, and Literature (Routledge, 2013; pbk. 2014), which he presented at the Ottawa International Writers Festival. He has held research fellowships at Queen's University Belfast, the Institute of Advanced Study at Jawaharlal Nehru University in India, and the Humanities Research Centre at the Australian National University.
If you have any questions about, or wish to participate as a Partner or Volunteer at TEDxFulbrightCanberra or similar events in Australia contact us at alumni@fulbright.com.au.
Speakers, Partners & Volunteers: Thank You!

Sponsor: U.S. Embassy, Canberra
Adviser: Ingrid Tomanovits, Lead Organiser, TEDxCanberra
Partners:
Sofia Majewski – Public Speaking Coach, Speak2us
Garry Mills – Public Speaking Coach, Peak Performance
James Fletcher – Public Speaking Coach, Alta Pete
Newcast Studios
University of Canberra
Brindabella Print
Volunteers:
Mijica Rose Lus
Helia Homayouni
Kelly Tsang
Susanita Dudley
Karen Coleman
Jarrod Coleman
Alex Maclaurin
Tara Hawley
TEDxFulbrightMelbourne
The theme "A Certain Optimism: Changing the Nature of the Game" draws directly from Senator Fulbright, a gifted statesman & the longest serving chairman of the Senate Foreign Relations Committee. He had profound influence on America's foreign policy, and his vision for mutual understanding shaped the extraordinary exchange program bearing his name. TEDxFulbrightMelbourne took place on 27 April 2017 at the Victoria Comprehensive Cancer Centre.
For videos of the event, click below:
Bringing life-saving therapies to the children | Hamish Graham (2012 Postgraduate Scholar in Medical Research to John Hopkins University)
The implementation gap (n): the gap between effective therapies and the people who need them.
"A few basic health solutions could save millions of lives – but only if they reach those who need them".
Hamish Graham is a paediatrician and public health researcher who is passionate about improving the health of children globally. His passion has taken him remote Australia, Sudanese refugee camps, Indian villages, and the war-torn capital of Afghanistan. He currently works at the University of Melbourne's Centre for International Child Health, leading a Bill and Melinda Gates-funded project to improve oxygen therapy for children in Nigerian hospitals.
There's No Such Thing As A Good Job | Melanie Poole (2013 Fulbright Anne Wexler Scholar in Public Policy to Harvard University)
Our cycle of endless work and consumption is making us lonely, stressed and unhealthy. We've trapped ourselves in this cycle because of a belief that selling our labour is the only valid way to contribute. Melanie explains why you need to reject this belief – and how you do it.
Melanie Poole is the Director of Engagement at the Federation of Community Legal Centres. Before joining the Federation, Melanie was a Senior Advisor for the Australian Council of Trade Unions, and led the ACTU's civil society engagement. Melanie was previously CARE International's Senior Advocacy Advisor the United Nations in New York, a post she held after a decade in international development, including country office work in Kenya and Pakistan. Melanie has also worked as a strategic communications consultant, with previous clients including Amnesty International, the CPSU, Sum of Us, GetUp, All Out and Just Leadership USA. During her time in New York, Melanie was active in civil liberties campaigns, and chaired the Stonewall Policy Alliance. Melanie holds a Masters in Public Policy from New York University which she completed as an Anne Wexler – Fulbright scholar, and Arts & Law degrees from the Australian National University.
Making Copyright Work for Creators | Patricia Aufderheide (2016 Fulbright Senior Scholar in Communications to Queensland University of Technology)
Copyright can stifle the creative process as much as reward it. What is lost when creators' cultural heritage is locked up? Australian creators deserve to know.
Patricia Aufderheide is University Professor of Communication Studies in the School of Communication at American University in Washington, D.C., and Founder of the Center for Media & Social Impact, where she continues as Senior Research Fellow. She is currently based at Queensland University of Technology, undertaking a Fulbright Scholarship. Her books include 'Reclaiming Fair Use: How to Put Balance Back in Copyright', 'Documentary: A Very Short Introduction', 'The Daily Planet', and 'Communications Policy in the Public Interest'. Patricia co-coordinates the Fair Use and Free Speech project at the Center for Media and Social Impact with Professor Peter Jaszi of the Washington College of Law. She has been a Fulbright and John Simon Guggenheim fellow and has served as a juror at the Sundance Film Festival. Most recently, Patricia received the George Stoney award for service to documentary from the University Film and Video Association in 2015.
How to Quit Quaking and Get Song Writing | Monique diMattina (1999 Fulbright Postgraduate Scholar in Music to Berklee College of Music)
In an a-ha parenting moment, song-writer Monique diMattina sees crippling perfectionist tendencies repeating themselves in the next generation. Via picture and song she shares personal tales along her road to recovery from perfectionism as an artist/musician, and some guiding principles for a more fun, productive work flow.
Singer songwriter and boogie-woogie barrelhouse basher Monique diMattina has strong roots in New York and Melbourne. A Head Records recording artist, Monique is stylistically versatile, her five albums exhibiting an original and modern blend of early New Orleans, dustbowl folk blues and impressionistic classical piano styles. Monique appears regularly on ABC Melbourne and Triple R radio for her 'Shaken Not Rehearsed' segment, in which she writes and performs a song within an hour, according to listener's requests. Monique teaches piano and song-writing at the Victorian College of the Arts and her music features regularly on ABC, BBC London and local radio. Singer songwriter and boogie-woogie barrelhouse basher Monique di Mattina has storng roots in New York and Melbourne. She's worked with Lou Reed, Jimmy Cobb, Suzanne Vega and Norah Jones, and appears weekly on Tim Thorpe's 3 RRR program Vital Bits for her 'Shaken Not Rehearsed' segment, in which she writes and performs a song within an hour, according to listener's requests. She performs regularly with Clare Bowditch, The Melbourne Tango Quintet and Doug de Vries, she teaches piano and song-writing at the Victorian College of the Arts and her music features regularly on ABC, BBC London and local radio.
Improving Life for People with Disability | David Hobbs (2008 Professional Scholar in Rehabilitation Engineering to the Cleveland FES Center, Cleveland, Shriner's Hospitals for Children, Philadelphia, and Kluge Children's Rehabilitation Center/UVA Child Development and Rehabilitation Center, Virginia)
Most of us play computer games for fun or because we want to get the highest score possible. What if playing computer games could improve one's health or ability? Could computer gaming become a rehabilitation tool for people with a disability?
David has undergraduate bachelor degrees in both Physics and Biomedical Engineering from Flinders University, and has extensive experience as a Rehabilitation Engineer in the disability, rehabilitation engineering and assistive technologies fields. He is a Lecturer and academic staff member within the Medical Device Research Institute at Flinders University, where he is also completing his PhD, investigating how serious games can improve hand function for children with cerebral palsy. David has experience working in rehabilitation engineering research institutions in England, Canada and the United States, and in 2017 David represented Australia at an assistive technology Summit at the WHO in Geneva.
On The Art of Medicine | Ranjana Srivastava (2004 Fulbright Postgraduate Scholar in Medical Ethics to the University of Chicago)
How a devastating personal loss taught me the importance of humanity and compassion in medicine.
Ranjana Srivastava is an oncologist and award-winning author. She is a regular columnist for The Guardian where she writes on matters of medicine, ethics and humanity. Ranjana's commitment to enhancing doctor-patient communication was recognised with a medal of the Order of Australia in 2017.
Heroes of Australian Medical Research | Brigitte Smith (1992 Fulbright Postgraduate Scholar in Business & International Relations to Harvard University and Tuft University)
Australia is excellent at medical research, but dismal at translating that research into new medicines and treatments for patients. I'll explore why that is, what we're missing out on as a result, what is working well, and what we can do to realise the potential of medical research. The stories of three heroes of medical research can show us the way.
Brigitte Smith has twenty years' experience in venture capital, business strategy and start-up company operations. Brigitte has been investing and managing investments for GBS's $450m of life science specialized venture capital funds since 1998. Prior to founding GBS Brigitte worked in the U.S. and Australia in operating roles with early stage technology based companies, and at Bain & Company as a strategic management consultant. Brigitte has a B. Chem Eng (Honours) from the University of Melbourne, and as a Fulbright Scholar completed a MBA (Honours) from the Harvard Business School and a MALD from the Fletcher School of Law and Diplomacy, both in Boston, USA.
The most wonderful job in the world. Now and Forever. | Vinay Rane (2014 Fulbright Professional Scholar in Medicine to State University of New York)
With his one-of-a-kind humour and wit, 2014 Fulbright Professional Scholar, gynaecologist, researcher, lawyer and professor Vinay S. Rane of Melbourne Mothers Hospital endeavours to convince the audience that he has the greatest job in the world – now and forever. Vinay Rane is an Australian obstetrician, gynaecologist, lawyer and public health researcher. He practices high-risk obstetrics and minimally invasive surgery in Melbourne, Victoria.